By Emma Gibson. The Street Theatre. Childers Street, Action Canberra. World Premiere. 8 – 16 September, 2012.
In this fantasy, a young woman discovers her tears heal people, even from death. She leaves her village to offer her services to the kingdom, but finds herself enslaved and forced to resurrect soldiers in an endless war. This ambitious play explores themes of self-sacrifice, emotions versus rationality, the roles of the sexes, and social power. Gibson combines elements borrowed from Greek tragedy, medieval morality tale and folk stories to make an interesting and creative piece in the tradition of magical realism.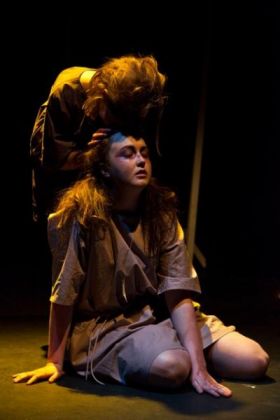 This production is energetic but needs a little work to truly capture the spirit of the writing. Gibson's script is largely narrated – as is necessary for a fable – and this provides specific challenges and opportunities. Here, the story telling detracts a little from the action. The effect is almost like a poetry reading interrupted by occasional bursts of activity. Because of this, my companion and I found it difficult to suspend disbelief and get into the fantasy world of the play.
The lighting was interestingly handled with coloured spots illustrating different moods, and Steven Fitzgerald on the marimbula was excellent. All the acting was strong and competent, but director Joanne Schultz has made a few decisions that might have detracted a little from the material. On stage, the movement could have been more varied and co-ordinated, and the dialogue between the narration could have been more natural and less declamatory.As it stands, this production feels more like a short story to be read rather than a play to be acted. It feels like it needs some creative brilliance to give it the spark it needs to do real justice to the material.
I could imagine this tale responding well to puppetry, clever audiovisual, or as a radio play. Radio adaptations of Angela Carter's Come Unto These Yellow Sands about the artist Richard Dadd, or the movie The Company of Wolves, provide examples of what can be done with this genre with a little imagination.
Cathy Bannister