Music & Lyrics by Michael John LaChiusa. Book by Michael John LaChiusa & George C. Wolfe. Based on the poem by Joseph Moncure March. Auckland Music Theatre, New Zealand. Directed by Andrew Potvin. 12th – 28th July 2018
"Some love is fire: some love is rust:
But the fiercest, cleanest love is lust.
And their lust was tremendous." Joseph Moncure March
Auckland Music Theatre is never shy about presenting confronting theatre and The Wild Party is certainly confronting on several levels.
The whole production looks fantastic. The set design, set dressing and costuming is superb. Set in AMT's workshop/ building area, the space is gigantic and, with its almost wrap around seating, puts the audience right in the party.
As each character is introduced they are explicit about the night being solely designed for a night of "sex, drugs, debauchery" with group of 1920's swingers who are bored, thrill seeking, sadistic, narcissistic, loathing and loathsome. The orgy at the end of Act One certainly fulfils that ambition.
As in Into The Woods, Act Two concentrates on the "be careful what you wished for" as the characters must face the consequences which result from such licence and excess and the ensuing tragedy.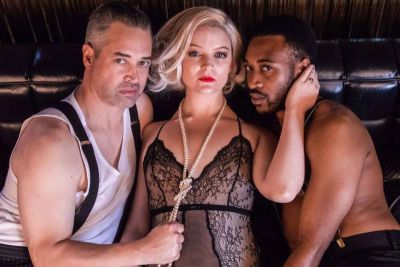 The pace of The Wild Party is frenetic and as such it can be hard to connect with the mainly unlikable characters, encouraged by the sound distortions on the night which prevented the audience's ability to hear and relate to each of the individual stories.
However, there are standout performances from – The Orchestra led by Mark Bradley, Verity Craft as Queenie, Anthony Cotton as Burrs, MInouk van der Velde as Delores and nice "almost cameos" by Richard Neame and Steve O'Reilly as Gold and Goldberg – the well needed comic relief. The entire cast is committed to telling this story, no matter how unpleasant and squeamish at times.
Director Andrew Potvin's production is ambitious, polished, visually beautiful, fast paced, challenging to both cast and audience and as unsettling as the period demands.
First time Choreographer Daniel McLean has created quirky, sexy, unsettling, frantic dance that is reminiscent of the threatening over the top fun implied in Cabaret.
The Wild Party is not for the prudish or the feint hearted. But for those who understand challenging theatre and do not need a standard musical theatre happy ending, you will enjoy the artistry.
In the words of Noël Coward about another marvellous party – "I couldn't have liked it more."
Pauline Vella