Book by Michael John LaChiusa and George C. Wolfe and music and lyrics by LaChiusa. Based on the narrative poem by Joseph Moncure March. Little Triangle. Reginald Theatre, Seymour Centre. Nov 15 – 24, 2018
Infamous jazz age showbiz parties, descending into booze and drug fueled orgies, drive this musical and the 1928 narrative poem which inspired it.
We're a collective 'fly-on-the-wall' as a coterie of (often second rate) vaudeville performers and hangers-on, partying in a New York apartment, introduce themselves via songs styled after traditional Vaudeville turns during an essentially non-linear first act, awash with ego. At times I found myself wishing for a stronger narrative hook, or a more daringly immersive approach, had the venue allowed, to truly draw me in to this somewhat rambling theatrical world. The stylish production values, though, helped carry me along.
The Wild Party is something of a cult musical, one of those short-lived Broadway shows which has gained a following, due in no small part to its cast recording. Composer / lyricist Michael John LaChiusa's mostly Off-Broadwayshows, described on Wikipedia as 'esoteric', have virtually all been recorded and gained popularity amongst harder core musical theatre fans.
Even if it isn't the great show, per se, The Wild Party provides a strong showcase for some of our best young performers. The first act, particularly, playing out as it does as a string of vaudeville turns, gives most of the cast their individual moments to shine.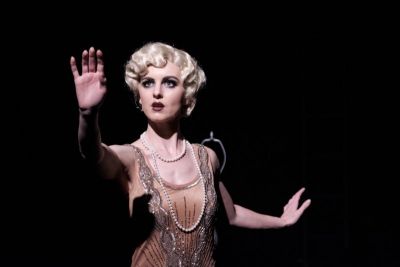 Director Alexander Andrews serves up a tight, stylish, high energy production. Costuming, particularly of the women, nails the period with stylish decadence.
Star of the night for mine is Madison Lee's choreography, which dazzles with its wit and sophistication, led exquisitely by five sassy, scantily lingerie clad chorines - Katelin Koprivec, Victoria Luxton, Matilda Moran, Rosalie Neumair and Sophie Perkins - epitomising the Follies era.
Georgina Walker might have stepped straight out of the silver screen, so utterly did she embody a 20s platinum blonde starlet, while landing her underlying vulnerability. As her abusive partner Burrs, Matthew Hyde nails the second-rate vaudeville performer which the script reveals him to be, through his vaudeville turns. Playing brother act Oscar and Phil, Samuel Skuthorp and Michael Boulus combine suave, impeccably matched style, dress and theatricality, with depth of emotional truth. Taylah Jarrett channels Peggy Sawyer as Nadine.
I could go on, but honestly, this young cast is bursting with musical theatre talent.
The party turns sour, descending into something altogether darker in its second act as the fun, flirtation and glamour give way to rape and infidelity, which director Andrews ensures plays out in stark contrast.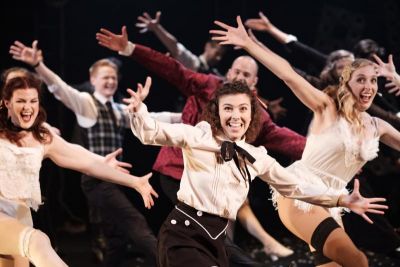 MD Conrad Hamill leads a terrific jazz band, so intrinsic to this show and score, though I missed one of the trademark joys of Little Triangle's first two productions, both acoustic performances. The need for amplification with this very different mix of instruments, sound engineering and vocal projection hadn't been fully factored in, so that the sound balance on opening night, especially for the complex numbers in the first act, was inconsistent. Many quieter moments were also lost.
I sincerely hope close attention has been paid to this subsequently, as it was quite a barrier to enjoying the work on display to its fullest.
Still, production company Little Triangle is an incredibly exciting new light on Sydney's musical theatre scene, following on from their initial splendid outings into Sondheim, by providing the opportunities for local musical theatre audiences to catch up with this more obscure offering, and for young musical theatre performers to explore their talents.
Neil Litchfield
Photographer: Clare Hawley