By Glyn Robbins, adapted from the A.A. Milne classics. Hamley Productions. Directed by: Chris Hamley. Pear Ridge Gardens, Margate. 19th April – Sunday 30th April 2017.
What better performance than a version of Winnie the Poohas my first theatrical "Grandma duty" adventure with a three–year old grandson? This version ofWinnie the Pooh by Hamley Productions at Pear Ridge Gardens Margate, Tasmania, was a delight on so many levels. A good way to see a children's classic come to life is in the company of and through the eyes of a child. Pooh Bear and friends glowed as stage characters in this adapted work written by British playwright Glyn Robbins.
It was hard to say who enjoyed the show most – adults or children. Staged in a lovely setting, complete with levee bank/running path and a nearby rivulet, tall poplars, abundant shrubbery, clipped hedges, smooth lawns and an espaliered fruit-tree trellis/walk for coming and going, the set was minimal.
All of our favourite A. A. Milne characters were there: Christopher Robin (Ellen Roe) and Piglet (Emma Skalicky), Eeyore (Matt Wilson ), Tigger (Chris Hamley), Rabbit (Andrew Casey) , Wol (Owl, Sarah Phillips), Kanga/nanny (Samantha Sangston), Roo (Kate Vosper) and of course, Winnie the Pooh (David Gilkes) grabbed our attention from the start. David Gilkes was a delightful Pooh, Ellen Roe a charming and convincing Christopher Robin and Emma Skalicky such an adorable Piglet, I wanted to pick her up and put her in my pocket.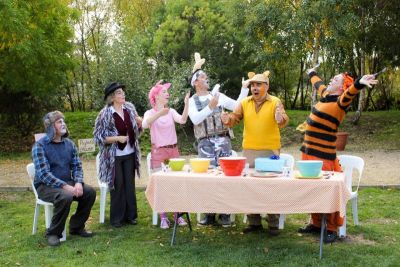 There was energy and enthusiasm from all actors and strong voice production, especially from Gilkes (Pooh), Casey (Rabbit) and Hamley (Tigger). Matt Wilson was the most Eeyor-ish Eeyore I have ever seen – the audience loved him.
The character effect of the costumes, achieved with clothes young audiences can relate to without making full animal costumes, were put together by Kath Chapman and Samantha Sangston. Sam Hunt did the make-up design, although the actors do their own for the shows. It was so effective, the characters looked as if they had just stepped out of a book.
The real test came from the audience – the children, mostly quite young, coped with the wordy play, following the action and joining in on the jokes and laughter. An excellent, fun-filled, joyful production.
Merlene Abbott