By Roald Dahl, adapted by David Wood. Directed by Ryan Taafe. Koorliny Arts Centre, Kwinana, WA. 12-27 May, 2017
Koorliny Arts Centre's production of Roald Dahl's The Witches (as adapted by David Wood) is a generous, lavish production with the 'big show' feel of a musical - to the point where you half expect people to burst into song.
Played on a gorgeous set, designed by Jon Lambert, locations are usually designated by single set pieces, but these are beautifully finished, highly detailed and slide smoothly into position with expert precision.
Alex Coutts-Smith's lighting is used to help create special effects and is very emotive, if sometimes shadowy. Sound features some cleverly campy underscoring, used for comic effect and featuring some very familiar tunes.
Central character 'Boy', is played very nicely indeed by Jack Churchman, in a very big role for a debut performance. Perhaps unsurprisingly, he works particularly well with Suzannah Churchman playing Grandmother. Jack's real-life mother, who has West End and British Television credentials, delivers a very impressive performance as the elderly Norwegian woman with an expertise in witches.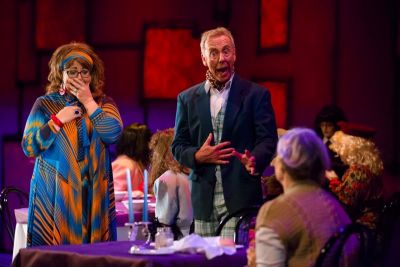 The title characters are a lovely parade of evil ladies. Hillary Readings is unnervingly good as the Grand High Witch, and her underlings are an eclectic collection of women nicely played by Yvette Drager Wetherilt (with some lovely additional cameos), Leona Barnes, Carole Barnes, Sue Murray, Gabrielle Morris, Carys Gray (a solid debut), Kate Crockett (a welcome addition to WA), Carole Phillips, Ebony Howard and Mollie McGarrity.
Rudi Palmela is excellent as the repellent Bruno Jenkins, with Geoff Leeder (very busy in this production) and Nicole Brown gorgeously over-the-top as his unlikeable parents,
Rounding out the cast are Jon Lambert (lots of fun in several roles) and Timothy Mcclelland.
Hillary Readings' costumes are a particularly memorable part of this production and much credit should go to the costumiers, 'bald cap wranglers', make-up advisors, puppet artists, prop makers and the crew-at-large for making this a visually amazing production.
A short and sharp show - it runs just over 90 minutes with an interval - it is perfect for a family audience. Thank-you Koorliny for this little gem.
Kimberley Shaw
Images: Deprimo Photography.