By John Dempsey and Dana Rowe. Phoenix Ensemble, Beenleigh (Qld). July 26 – August 17, 2019
Eastwick is one of those morally uptight, gossipy little New England towns (where everyone knows everyone else's business) that have been sent up on stage and screen many times before. Three single women in the town — artist Alexandra (Samara Marinelli), musician Jane (Lara Boyle) and nervous, bookish Sukie (Danika Saal) — are tired of conforming to the town's moral code, as dictated by town matriarch Felicia Gabriel (Susan Stenlake), and discuss their ideal man over a few drinks. Unaware of their magical powers, they unwittingly conjure up a man that conforms to their desires, Darryl Van Horne (Joshua Moore), who fulfils them in many different ways and helps them overcome their inhibitions, but of course it eventually goes a step too far with tragic results.
The principal cast members have a lot to live up to after the dream trio who originally performed the three main female roles and, in this production, they smash it out of the park. Samara Marinelli plays Alexandra with a strong exterior, incredible vocal ability but ultimately portrays a very vulnerable and uncertain inside; Danika Saal gets across the stammering inarticulacy of Sukie and is an absolute riot of laughter with her comedic timing; Lara Boyle stands out particularly as repressed, insular Jane, whose transformation to sex kitten is the most extreme during her song 'Waiting for the Music to Begin'. Susan Stenlake is perfect as battle-axe Felicia, with great support from Simon Lyell as her long-suffering husband Clyde. Harley Coghlan is the sweetest high-school sweetheart as Michael, ably supported by Hannah Johnstone as his sweetheart Jennifer – they are both ones to watch in the theatre scene.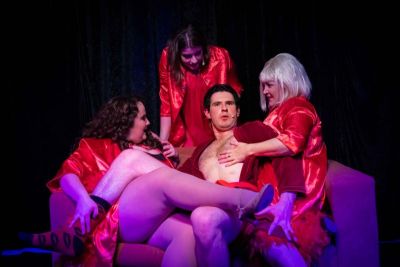 And what of eighties pop's most famous smile? The star of the show has to go to Joshua Moore as the devilishly charming Darryl Van Horne. His persona on stage from the very first minute is one of dominance and confidence. With vocals on point and acting to match, Moore never missed a beat and had the audience. The show stands or falls on this character but Joshua Moore brings a unique edginess and unconventional comic skill to the role, and he turns out to be able to dance as well as he can sing. His stony-faced slave Fedel, played by Jason Ianna, is a silent role yet the creepy character adds a sense of comedy & mystery, as well as a third dimension to Van Horne's character.
The choreography, by Taylor Davidson, in the larger dance numbers was simple and smooth, to accommodate the smaller stage Phoenix offers, but it was perfect in terms of scale, keeping true to the tradition of less is more.
The Witches of Eastwickhas all it says it will - romance, comedy and spectacle. A simple but effective set and lighting to match meant no trouble recreating the various scenes throughout the show. Add to this a fantastic band under the direction of Kym Brown and you have a show that is not to be missed.
Mel Bobbermien