Music: Harold Arlen. Lyrics: E.Y. Harburg. Additional Music: Andrew Lloyd Webber. Additional Lyrics: Tim Rice. Adaptation: Andrew Lloyd Webber & Jeremy Sams. John Frost, Suzanne Jones Production in association with The Production Company. Director: Jeremy Sams. Choreographer: Arlene Philips. Musical Supervisor: Guy Simpson. Lyric Theatre, QPAC. Opening Night: 9 Nov 2017.
If you love The Wizard of Oz movie then you're going to love this stage adaptation, which is quite the best I've ever seen. Heavy on special effects, awash with colour, it's a vividly spectacular version of L. Frank Baum's beloved novel. Book adaptors Andrew Lloyd Webber and Jeremy Sams have gone back to basics, pulled the screenplay apart, and plugged the holes to make the story work as a stage musical. And Lloyd Webber, working with Tim Rice for the first time since Evita, has written some effective new songs to fill those gaps.
Throw in Jon Driscoll's superb digital effects (the tornado is a jaw-dropper), Robert Jones' wondrous and witty designs, especially the Art Deco Emerald City with its stylishly dressed citizens, and Arlene Philips' high-energy choreography, and you have a blockbuster that could equal the success of its second-cousin Wicked.
Newcomer Samantha Dodemaide manages to bring warmth to Dorothy, helped by the antics of her Aussie Terrier pooch Trouble, who's just a lovable Toto. Her vocals are strong and she makes the most of the score's iconic "Over the Rainbow", a little soft in the lower register but her hard-sell finish is a guarantee audience-applause button.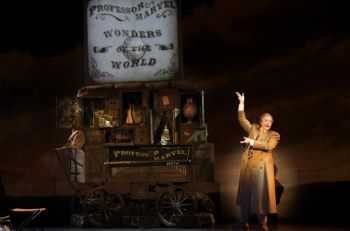 Outstanding performance of the show is Jemma Rix as the mean cackling Wicked Witch of the West. Delightfully evil in her quest for Dorothy's red shoes, and a magnificent malevolent force in the "Red Shoes Blues", a Kurt Weill/Prokofiev type waltz which is one of Lloyd Webber's better additions to the score.
The other is the finale "Home is a Place in your Heart", tenderly sung by Lucy Durack as Glinda the Good. It's one of the few lump-in-your-throat moments in a show which could do with a few more.
Anthony Warlow has never been more delightfully droll than in his dual roles of Professor Marvel and the Wizard. The first had him introducing another of the new songs, "Wonders of the World", whilst the second allowed him to be irascible and curmudgeonly.
As the three friends of Dorothy (and there's a joke made about that), Eli Cooper was an athletic Scarecrow, Alex Rathgeber effortlessly nailed the tap-routine and vocal of the Tin Man's "If I Only Had a Heart", but John Xintavelonis' cowardly Lion was simply marvellous with perfect comic timing.
Like the Tin Man, the show could do with a little more heart, but it is faithful to its source material, and fans of the movie (and others) will enjoy this newly-minted skip down the yellow brick road.
Peter Pinne
Photographer: Jeff Busby