Music: Harold Arlen. Lyrics: E.Y. Harburg. Additional Music: Andrew Lloyd Webber. Additional Lyrics: Tim Rice. Adaptation: Andrew Lloyd Webber & Jeremy Sams. John Frost, Suzanne Jones Production in association with The Production Company. Director: Jeremy Sams. Choreographer: Arlene Philips. Capitol Theatre, Sydney. Sydney Premiere: 4 January 2018.
If, like myself, you've been travelling down the cinematic Yellow Brick Road with Dorothy and her pals since childhood, get set to enjoy this newest incarnation, easily the best of the several stage versions that I've seen.
Augmented with new songs by Andrew Lloyd Webber and Tim Rice, this feels far more like a fully-fledged musical than previous stage versions. Boosting the ensemble work and providing additional musical scope to roles like Professor Marvel (Anthony Warlow) and the Wicked Witch of the West (Jemma Rix), the new material integrates seamlessly into this fresh adaptation.
"Red Shoe Blues" for the Wicked Witch is the stand-out amongst the new numbers, packing some real punch and pizzazz into the early part of the second act, especially as delivered by Jemma Rix. "Wonders of the World" fleshes out the character of Professor Marvel, giving Anthony Warlow far more to work with as he layers the character with his own special brand of showbiz panache and charm.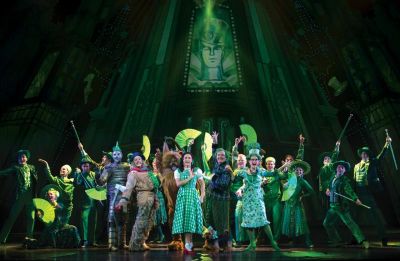 The spectacular production uses video and multi-media to ensure that the storm and other challenging moments of storytelling are vivid and exciting, with meetings with the Wizard, visits to the Wicked Witch's lair and flying monkeys genuinely hitting the spot. The special effects complement Robert Jones' splendid set and costume designs a treat.
Producers John Frost and Suzanne Jones casting master-stroke, securing Australia's Wicked witches Lucy Durack and Jemma Rix as their classic counterparts, is an instant hit with the audience, with both warmly recognized and welcomed on their first entries. Lucy Durack's Glinda the Good delightfully channels her Wicked portrayal, though Jemma Rix's Wicked Witch of the West departs dramatically from Elphaba, as Jemma revels in the pantomime of the role. And their frocks, extravagantly glittering and feathered, respectively, out-glam their Wicked costumes.
Anthony Warlow also clearly enjoys his two eccentric cameos, Professor Marvel and The Wizard, mining them for all their respective empathy and melodramatic fun.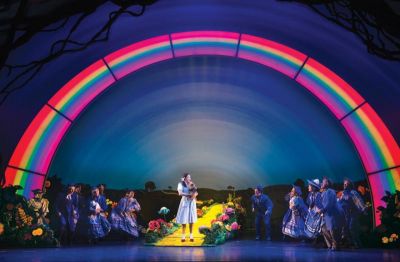 Dorothy's trio of friends delight – Alex Rathgeber's Tin Man, throwing in a touch of tap dancing, Eli Cooper's nimble, elastic–jointed scarecrow, and John Xintavelonis' big cuddly-toy of a Cowardly Lion – displaying such a genuine camaraderie.
As Dorothy, Samantha Dodemaide captures the wistful yearning of "Over The Rainbow" early on, going on to give a portrayal that attractively balances vulnerability and spunk.
Scene-stealing star of the show, though, with more to do than any Toto I've ever seen, 'Trouble' wins all hearts, also displaying excellent comic timing.
As you'd expect, the whole is capped off by the triple threat Aussie ensemble. They're slick, enthusiastic and vibrant, attacking Arlene Philips choreography with energy and precision.
Magically conjuring up illusion, while engagingly evoking favourite characters, this new West End production of The Wizard of Oz trips happily and freshly down that Yellow Brick Road.
Neil Litchfield
Photographer: Jeff Busby