La Boite, The Danger Ensemble & Brisbane Festival. Roundhouse Theatre. September 7 – 28, 2013.
This is an extravaganza for the mind: bizarre, psychedelic, hallucinatory – but visually entertaining nonetheless. La Boite's catch-cry for 2013 was 'We're Not in Kansas Any More.' That's significant.
According to literary analysts, L. Frank Baum's original, on which all derivatives since have been based, was rich in symbolism for the state of 1890s America. This ensemble-developed-version for 21st century Australia captures our own parallels:
On arrival we follow the rambling yellow brick roads towards our seating area choice (it is played in ¾ round). Reference here to the recent GFC collapse when investors' promises of gold returned to dust?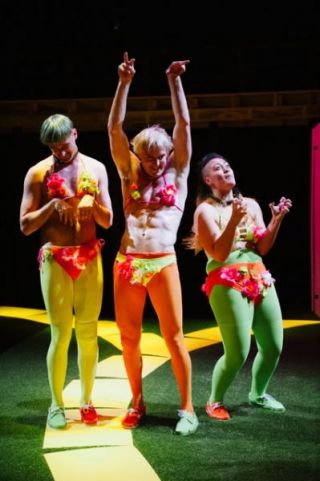 The ruby slippers that led Dorothy home to domestic security become here equally impractical Ga-Ga heel-less shoes. Early on we get the message, if you reach "over the rainbow'' it may not produce the happy ending you expect.
Scarecrow, in the original, supposedly represented farmers' problems; Tin Man represented failures in the manufacturing industry; and Lion, America's situation in the Spanish-American war. Isn't that where we are today? Surely these must be universals.
Judy Garland has been injected into this treatment as a hopeful narrator, but becomes Toto after a devastating cyclone! Dorothy is a successful Miss Australia who ends up in poverty pleading with her mother to save her.
Because it was a 'from-ground-up' ensemble development based on an initial script by Maxine Mellor under Steven Mitchell Wright's direction, the actors, listed without role identifications, are Chris Beckey, Margi Brown Ash, Caroline Dunphy, Thomas Hutchins, Lucy-Ann Langkilde, Thomas Larkin and Polly Sará.
The myriad technical creatives cannot be overlooked. I applaud their contributions as much as that of the performers.
Jay McKee
Images: Thomas Hutchins (as Tin Man) & Munchkins (Thomas Hutchins, Thomas Larkin, Lucy-Ann Langkilde). Photographer: Morgan Roberts.