By L. Frank Baum, music and lyrics by Harold Arlen and E. Y. Harburg. APAN Entertainment and HAMA Productions. Directed by Olivia Collier. The Regal Theatre, Subiaco, WA.August 17 - Sep 1, 2019
The Wizard of Oz, presented by APAN Entertainment and HAMA Productions, is truly a large scale event, featuring 172 performers during its three week run, including primary, secondary and tertiary students, community and professional actors, plus community initiatives to allow people to attend the show, who might otherwise be unable to see a theatrical production.
Amy McCann lead the large cast as Dorothy, singing beautifully and simply lovely as Dorothy. My only disappointment with the show was that her gorgeously performed "Somewhere Over the Rainbow", was supplemented with dancers, and aerialists, who, while supremely talented and very clever, detracted from the simple beauty of this pretty voice and nicely acted performance of a beloved song. Opening night audiences were expecting to see 'the other Dorothy', Elaina O'Connor, who was unfortunately injured in a fall at the final rehearsal. Stage Whispers wishes Elaina all the best for a speedy recovery, and we hope to see you on stage again soon.
Toto Tudor, was, almost literally, born to play Toto, and happily stole scenes, with some clever improvisation thrown in for good measure. Another excellent performance from this veteran canine actor.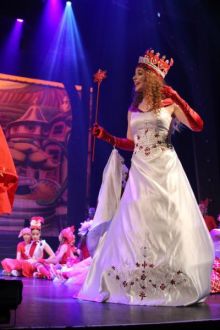 Vincent Hooper was an audience favourite as the Cowardly Lion, partly channelled from the late Bert Lahr and part his own unique style. Ethan Churchill was a Tin Man with great heart, while Bella McSporran was a delightful Scarecrow, in my favourite performance of hers to date. (She shares the role with Taylah Marie).
Mia Matthieson (who alternates with Gabriela Golestani) was a striking Glinda, nicely played against Jessica Ashleigh's formidable Wicked Witch of Oz, with Jamie Mercanti pulling a lovely double in the title role and as Professor Marvel.
Great work from the supporting players - especially Genevieve Newman's loveable Auntie Em (the reprise of "Somewhere Over the Rainbow" is a highlight), Jesse Watts' Uncle Henry, Jesse James' scary Miss Gulch and Maddison Thomas' quirky Guard of Oz, with all of the smaller roles working well. The Elegant Trees are particularly impressive, with lovely team-work and execution of Natasha Klarich's choreography and Katherine John and Veronica Bravo's vocal direction by all ensemble members. The Munchkins are as cute as you would hope.
A lovely little Easter Egg for those who attended Mercedes' College's Wicked earlier this month in the same venue. Much of the set is recycled and familiar - which for a show set in the same universe, is a great touch. Kerry Wilhausen's lighting is superb with sound well balanced by Jake Goodwill.
A great choice for families, this is a feel-good show that is performed with lots of love, truckloads of enthusiasm and energy to burn. A great showcase of local talent.
Kimberley Shaw
Images: Hamish McSporran Photos