By Hilary Bell. Oily Rag Theatre. Holden Street Theatres. May 3-12, 2018.
Australian playwright Hilary Bell wrote Wolf Lullaby in 1996, three years after the highly publicised case of James Bulger, the two-year-old British boy who was murdered by two ten-year-old boys. Comparisons are drawn quickly in this play as details emerge about the killing of Toby, a young boy from a small country town in Tasmania.
The play opens with nine-year-old Lizzie desperately trying to get the attention of her parents Angela and Warren. Separated but on friendly terms, the two seem oblivious to their daughter's subtle cries for validation. As the story unfolds we are made aware of the extent of Lizzie's dark imagination. Unable to sleep, she is traumatised by a mythical wolf that she says makes her do bad things.
The story is as disturbing as it is sad and raises more questions than it answers. We are led to believe that Lizzie is responsible for the death of young Toby, who it is alleged she lured away from a local shopping mall. Lizzie seems rather detached from the shocking events and leaves her loving parents' lives in turmoil.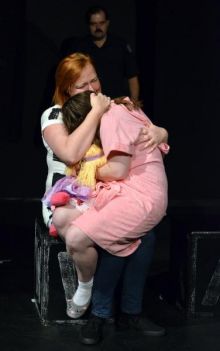 If you knew your child had committed such a crime would you protect them or make them face the consequences? This is just one of the questions the audience is left to ponder.
For Oily Rag Theatre's production the story unfolds on a sparse set, with large building blocks that double for seats. The lack of props means that actors are sometimes flailing in scenes and the lack of action dulls the pace.
However, one can't fault the actors' intensity.
Heather Crawford as Angela Gael takes us through a myriad of emotions, some rather confusing, but this is no fault of hers but simply where the script takes us.
Angela's wayward ex-partner is played by Lyndon Cullen-Reid. His dispassionate portrayal contrasts with that of Crawford's, but it does show how different individual responses can be when faced with such tragedy.
Damien White as Ray Armstrong is authentic in his depiction of the local law enforcement, but again some of his dialogue seems out of place in his scenes with the young Lizzie and therefore becomes distracting.
Lizzie is brought to life by the adult Shannon Gray. She does well to capture the complex character of the troubled young girl. Whether or not she is evil and destined to commit atrocities despite her upbringing is left for the audience to decide.
Director Kristin Telfer was brave to tackle such disturbing subject matter, but whether it makes for a good night at the theatre, I am not sure, as the complexities of the story go way beyond the scope of this production.
Kerry Cooper