By Sarah DeLappe. Directed by Emily McLean. The Blue Room Theatre, Perth, WA. Aug 20 - Sep 7, 2019
Red Ryder Productions' The Wolves is an exciting and vibrant show, with a cast of ten amazing women. One of the best shows at The Blue Room this year, this Pulitzer Prize finalist story of a teenage girls' soccer team, is gorgeously acted as we follow the team through a series of pre-game warm-ups.
As the girls stretch before the game they chat about soccer, school, society and sex, their conversations overlapping with musical charm. We watch friendships develop and change over the course of the season, as we get to know these nine very different young ladies.
We rarely hear any of the girls' names, as they are referred to mostly as their player numbers. Molly Earnshaw leads the pre-game stretches as captain #25 in a vibrant performance, with a touching offstage friendship. Anna Lindstedt shows a lovely journey as socially anxious goal-keeper #00. Best friends #07 and #14 are given a believable relationship by Angela Mahlatjie and Tallulah Starkie, Chelsea Gibson is sweet as the conservative and unlucky #02, with Caitlin McFeat charming as innocent and vague #08. Sam Nerida is likeable as very bright #11, bouncing nicely off Courtney Cavallero's funny and friendly #13. Elise Wilson is quietly quirky as new-girl #46, and while all the girls are believable as elite soccer players, Elise, like her character, demonstrates some very impressive skills. Alison van Reeken makes a meaningful late-in-the-show appearance as a Soccer Mum, in a demanding, well-played supporting role.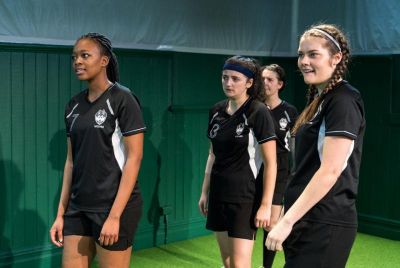 This is ensemble work at its finest, making the most of a meaty little script, and its great to see a show which focuses on the experiences of young women.
Red Ryder Productions' turfed indoor soccer field set is particularly impressive and Karen Cook's lighting packs a punch when needed. Rachael Dease's sound design is almost subliminal at times, giving us a sense of the indoor soccer centre.
News has travelled quickly about this excellent show, which has completely sold-out its advertised season. There have been extra matinees added, which I highly recommend catching if possible. This is a striking production that really kicks its goals.
Kimberley Shaw
Images courtesy of Susie Blatchford of Pixel Poetry