The Dust Palace. Brisbane Powerhouse. Wonderland Festival. 30 November, 2018
The WonderWombs is performed by an all-female troupe, The Dust Palace, who hail from New Zealand. Established by circus and physical theatre aficionados, Eve Gordon and Mike Edward, they have been performing together for nearly 10 years. The WonderWombs starts as a kind of cabaret with a difference – this being the Wonderland Festival, it is a definite difference. With wicked Kiwi humour, the host introducing the show is a man in a suit – well, a pregnant Jess Holey Bates (who also directs) playing a man in a suit, an MC stuck for words. It's how you might feel after seeing The WonderWombs – it is an indescribable fusion – a palimpsest of old burlesque stills, catsuits on catwalks and cheesy advertisements, pasted over with phone booth sex ads and circus posters.
The show starts as dance and movement with some sassy form – 'tableau vivants' as the great Ziegfeld, famous for his Follies may have put it. There are strong and taut bodies on show – but this is no celebration of androgyny. Femininity in all its forms – muscle toned and strong – is the star attraction here. In a series of cheeky, irreverent sketches, these women show a multiple set of performance skills – from acting and comedy to the circus acrobatics they are known for. The show is playful and sexy, risqué with a solid wink – the politics are definitely of a sexual nature. The soundtrack of rap, poetry and buzzing beats matches the sass and underlines the themes of female strength. One vignette riffs on the word 'NO' and will resonate with #MeToo supporters. It's a series of strong and pacey pieces, with a well-chosen soundtrack – just crying out for use of Madonna's 'What it feels like for a girl' but that would be too obvious a choice for this whip-sharp band of sisters.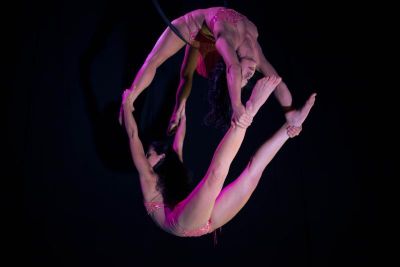 The ensemble show builds to intricate and dangerous 'partner acrobatics' and circus skills featuring Jaine Mieka, Rochelle Mangan and Eve Gordon. And then a series of seriously stunning solos by Bethany St John, Hannah Tasker-Poland and Ariel Cronin – using hanging hoops, wires and aerial fabric. There are gasps aplenty as bodies rise into the air, carve shapes and hold unholy poses, performers held aloft with only small hunks of flesh and honed muscle saving them from a fall. The applause drowns out the gasps but the sense of wonder will survive long after the show's curtain call. No one present will look at a humble hula hoop or stilted pole dance in the same way after seeing the human feats of magic performed by this troupe of talented acrobatic athletes.
Beth Keehn
Photo credit: Tashy H'ng