By Stephen Sondheim and James Lapine. Hornsby Musical Society. Hornsby RSL. August 24 – September 1, 2012.
Stephen Sondheim's lyrical conflation of fairy tales is well suited to an auditorium stage, styled as it is in separate segments that intertwine as each tale unfolds.
So, in separate spots across the wide Hornsby RSL stage, the Narrator (Stage Whispers' own Neil Litchfield, who also doubles as the sinister Mysterious Man) introduces the audience to Cinderella, Jack and the Beanstalk and Little Red Riding Hood – and a baker and his wife, who inter-connect the tales. Add a wicked witch, Rapunzel, two foppy, leaping princes and a couple of giants, and Sondhiem's complicated musical is revealed.
The music, typical of Sondhiem, is intricate and the lyrics carefully conceived – difficult to sing maybe, but very clever. And the cast do them proud. In fact, director/musical director Steven Kreamer is to be congratulated on bringing this production together so successfully, plagued as it was in production week by technical problems.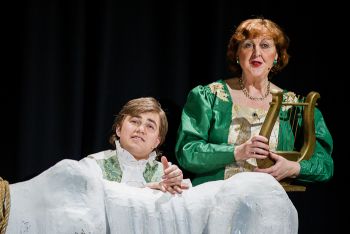 Technical problems are inherent in this sort of auditorium, where light and sound are usually set for bands. The lighting system here is expensive and there are lots of lights, but the design does not usually work for musicals, especially one such as this where different scenes are set on the stage at the same time. Other technical problems with sound mixing also led to some lyrics being distorted – a shame, in that they are so intricate to the story-telling. When the cast has spent so long in rehearsal, it is a disappointing that there is so little time available for the technical crew to get things right.
Notwithstanding any of this, the cast worked very professionally. The show went on, even if the lights didn't always light a specific scene at the right time! Voices were usually clear, harmonies worked well and everyone seemed to be having fun – and that's what it's all about after all!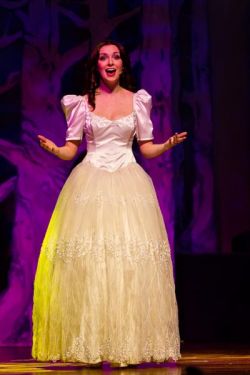 The cast of Into the Woods is large – 21 characters played by 18 performers in this production. All characters are established very well and the relationships between them are clear and strong.
Laura Sheldon's Little Red Riding Hood is a very twee and amusing and really engages the audience. Her song and dance routine with the Wolf (Simon Smalley) is especially funny.
Amy Perry, as the baker's wife, shows a wealth of performance experience and control, as does Damien Schmitt who plays her husband. Their chemistry and vocal strengths provide the glue that binds the stories and the ensemble.
Simon Smalley and David Russell play the foolish Princes. Both have very strong voices and the power and control of their duets were much more impressive than the comic antics that led up them. Brendan Paul, as Jack, made much of the naivety of the character and his sweet voice added to the innocence of the role.
The female members of the cast have similarly strong voices and make the most of the characters they play: Katerina Vigh's sweet Cinderella and her nasty family (Juliann Horne, Chloe Horne and Jacquie Nolan); Jack's Mother (Sue Rowe);t he demanding and nasty Witch (Elizabeth Chambers) and her entrapped daughter Rapunzel (Kate Campbell Westerway); and Alexis Terry and Lilli Paul as the Giant and Little Red's granny.
Neil Litchfield's narration links events mellifluously and his Mysterious Man flits about the stage warning and admonishing.
This cast and its directors have had some ups and downs getting this show on the stage – and have worked exceptionally hard to reach the standard that they have achieved. What a pity there are only six performances!
Carol Wimmer
Photographer: Grant Leslie