By Stephen Sondheim and James Lapine. Hornsby Musical Society. Hornsby RSL. August 24 – September 1, 2012.
Stephen Sondheim's lyrical conflation of fairy tales is well suited to an auditorium stage, styled as it is in separate segments that intertwine as each tale unfolds.
So, in separate spots across the wide Hornsby RSL stage, the Narrator (Stage Whispers' own Neil Litchfield, who also doubles as the sinister Mysterious Man) introduces the audience to Cinderella, Jack and the Beanstalk and Little Red Riding Hood – and a baker and his wife, who inter-connect the tales. Add a wicked witch, Rapunzel, two foppy, leaping princes and a couple of giants, and Sondhiem's complicated musical is revealed.
The music, typical of Sondhiem, is intricate and the lyrics carefully conceived – difficult to sing maybe, but very clever. And the cast do them proud. In fact, director/musical director Steven Kreamer is to be congratulated on bringing this production together so successfully, plagued as it was in production week by technical problems.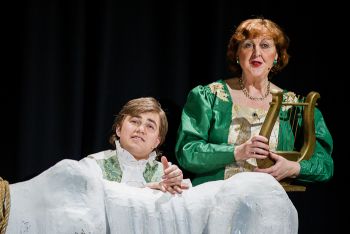 Technical problems are inherent in this sort of auditorium, where light and sound are usually set for bands. The lighting system here is expensive and there are lots of lights, but the design does not usually work for musicals, especially one such as this where di