Adelaide Fringe 2019. Cupola at the Garden of Unearthly Delights. Feb 15 – Mar 3, 2019
Almost like a rite of passage, our young Australian artists make the pilgrimage to the United Kingdom to see if they can make a break into the theatrical tapestry that is London. That was the case for Lala Barlow and partner Robbie Smith as they departed Australia, survived the long-haul flight and arrived at Heathrow with a sense of adventure and excitement, ready to embrace all that old Blighty has to offer.
After becoming accustomed to the London dampness and visiting the top ten sites, from Big Ben to the Jack the Ripper tour ('that was crap"), the couple found a share house to call home.
It was One Daisy Mill, a north London warehouse housing 12 inhabitants, who we now see here before us. Most are characters that will be familiar to anyone. There's the hardcore PT, the failed actor, the womanising yoga instructor, the hipsters, the activist, the Americans and the poet, all portrayed by Barlow and Smith while using a vast and amusing cache of props and hair pieces.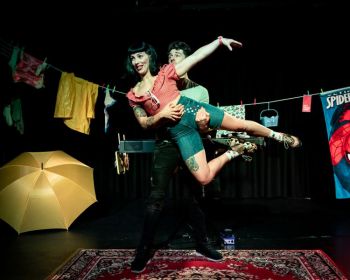 The small Cupola stage gives a sense of the stifling closeness one can experience in shared living, even when it is in a warehouse. Barlow and Smith chronicle their year through a number of witty and fast-paced songs and dances interspersed with those familiar peculiarities of shared domesticity.
The keyboard is played variously by one, other or both of the performers, which initially might seem impressive. However as the character and prop changes reach an almost manic crescendo it's obvious that multi-tasking comes as second nature to this pair.
This is a show for anyone who's ever spent any time in a share house, or in London. Get along to this funny, fast-paced and very cleverly crafted offering from Barlow and Smith.
Jenny Fewster
Photographer: Ben Fon