By Emily Brontë, adapted and directed by Nick Skubij. Shake & Stir. Cremorne Theatre, Brisbane. 1 – 18 October, 2014
This wildly successful little company are back again with a production that has success stamped all over it.
The three talented young co-founders, all actors, writers and directors, Nelle Lee (who celebrated her 30th birthday on opening night), Nick Skubij and Ross Balbuziente, combine a deep understanding of the theatre business and a commitment to high professional standards. They specialise in productions that engage and attract school students and have achieved monumental successes with recent adaptations of frequently-studied literary classics. This is another title to add to their success list.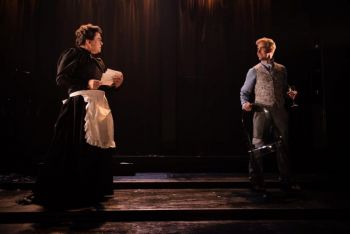 Nick Skubij has pared down Emily Brontë's dense Gothic novel to focus on the families and romantic relationships. Ross Balbuziente, with his smouldering Latin good looks, was born to play Heathcliff. In a moment of inspiration the company approached Jerry Connolly to play narrator Nellie Dean. He accepted, and becomes a trump card in this production.
I'm not sure to whom I should attribute star success of this play: Connolly and Balbuziente attract our attention but depend on the set, lights and sound design to establish the atmosphere of the Yorkshire moors. Shake & Stir's regular creative team Josh McIntosh (set design), Jason Glenwright (lighting) and Guy Webster (sound) achieve the cold and wet misery of that region with help from optical bloc's massive projections. Leigh Buchanan designed effective costumes. These all support the performances from Nelle Lee (as Frances Earnshaw, Isabella Linton and Linton Heagthcliff), Anthony Standish (Hindley Earnshaw and Hareton Earnshaw), Melanie Zanetti (Catherine Earnshaw and Cathy Linton) and Julian Curtis (Edgar Linton).
Grab a ticket. Inspirational talent like this is hard to come by.
Jay McKee
Images: Dylan Evans Photography