Adelaide Festival of Arts 2018. Her Majesty's Theatre. March 16 – 18, 2018
Xenos is a Greek word meaning "stranger" or "alien". Just as Prometheus, a Titan who is credited with the creation of man from clay defies the gods by stealing fire and giving it to humanity, an act that enabled progress and civilization, the Adelaide Festival production, Xenos, is precisely the opposite, showing us mankind's 'gift' to humanity, namely war, that makes us strangers on Mother Earth.
Xenos is a monumental work in every way, led and driven by Akram Khan, one of the most celebrated and respected dance artists today. In less than 20 years he has created a repertoire that has made an important contribution to the arts in the UK and overseas. His reputation has been built on the success of productions such as Until the Lions, Kaash, iTMOi (in the mind of igor), DESH, Vertical Road, Gnosis and Zero Degrees.
Drawn from archival traces left by some of more than a million Indian soldiers who fought for the British Empire in World War I, this compelling and moving piece takes us to concentration camps, trenches and the vast wasteland that is war.
Akram Khan cleverly combines the Indian kathak form, contemporary dance and mime then fuses them into a piece of storytelling that although there are pieces of spoken text, tells the story in dance graphically and sympathetically. Xenos will be his last piece as a solo performer.
He is ably assisted by Nina Harries (double bass and vocals), Andrew Maddick (violin), B C Manjunath (percussions & konnakol), Tamar Osborn (baritone saxophone) and my particular favourite, the award-winning Indian classical vocalist Aditya Prakash.
As we arrive, B C Manjunath and Aditya Prakash are playing in a set littered with chairs, a swing, a small table of dirt and cushions. However, the lights keep flashing intermittently and we hear dogs barking as well as sudden noises reminiscent of an air raid. This all changes, however, with the arrival of Akram Khan in a white kurta and pants. His peaceful world disappears, hauled away by ropes.
He then proceeds to take us on an amazing journey of joy, suffering, isolation and despair.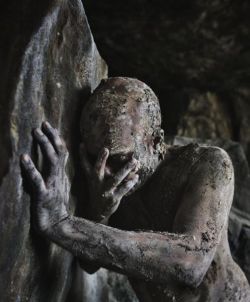 Khan is the master of his body and a younger man would struggle to keep up with his frenzied movement; sometimes with graceful, flowing hands, sometimes writhing on the floor or hauling himself with ropes, while all the time interacting with the dirt on stage; the dirt covering his body and costume as the show progresses.
Visually, the show is stunning. The back half of the stage is covered with a steeply raked section which Khan climbs, sometimes unassisted, other times with the aid of ropes emanating from the top of the rake (or top of the trench in which he is trapped). The stage changes colour with the music and dance, varying from blue/green, stark light & shadow or intense red.
Above the trench and behind a scrim are the musicians who are lit from above when they are being highlighted. Live music plays a major part in this production, however there is also a soundscape which features spoken word among other sounds of war.
A striking stage element is a concentration camp-like spotlight which interacts with, then searches the area for Khan.
Xenos is an intensely moving performance and leaves us feeling that we have witnessed the end of the world and all that remains is one man whose spirit and body has been broken.
It is a tribute to Khan's performance that the audience were silent for some time after the stage lighting faded and then erupted into applause and rose to their feet to show their gratitude and respect for the experience they had shared.
Barry Hill
Photographer: Jean Louis Fernandez