By William Shakespeare. Directed by Megan Dansie. University of Adelaide Theatre Guild. Pfitzner Court (Gate 14, off Kintore Avenue). 17-25 Nov, 2018.
As far as Shakespeare goes, As You Like It may be relatively lacking in serious themes, but this makes it ideal for anyone just up for a cheerful time in a pleasant location. What makes UATG's production special – and what should prove especially pleasing to buffs of the Bard - is the evident expertise and care that director Megan Dansie and her terrific cast have brought to it.
The setting may have been updated to 1967 and the Summer of Love, but the text and its inherent nature are treated with general respect and delivered with great accomplishment. The open-air performance space is an ideal one not only for a play largely set in a forest, but one that, despite dealing partly in deception/disguise, is performed with such an appealing level of emotional exuberance.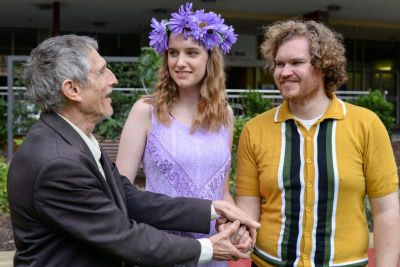 Jean Collins, in the pivotal role of Rosalind, provides an exceptionally strong and magnetic centre to the proceedings, with Christina Devetzidis equally appealing and impressive as Rosalind's offsider Celia. Also standing out in the consistently solid ensemble are Tim Edhouse and Philip Lineton (both in dual portrayals), while Riordan Miller-Frost leaves a great impression despite the relatively small role of Silvius.
Phil Short's live guitar compositions (plus a song contributed by Claire Langsford) add to the freshness and warmth that this production emanates, as do the groovy and colourful costumes (co-ordinated by Jasmin Muller). They are the final deft touches on a very pleasing production.
Anthony Vawser