Written by Oscar Wilde, adapted for the stage By Nicki Bloom. Directed by Andy Packer. Produced by Slingsby Theatre Company. Presented by QPAC. Cremorne Theatre, 23 – 27 July, 2019
Immersive theatre, it's so hot right now. The Young King brings Oscar Wilde's delightfully anti-establishment fairy tale to life for the audience in an imaginative and unique way.
Upon arrival, you're placed into groups and cast as the people of the kingdom. You're taken on a literal journey through the foyers and halls of the theatre. You're told you've come from every corner of the kingdom to attend the Young King's coronation. Each group has a gift to bring to the King. You also get to have a bit of fun craft time, making hats in your group's colour to wear to the event. By this stage, you can feel a sense of childlike fun percolating through the air.
Once inside the theatre proper, the lead performers Lachlan Barnett and Genevieve Picot begin a lively and fanciful mix of narration and acting. They use shadow puppets and props to tell some segments of the story; they act out other parts, with Lachlan playing the Young King and Genevieve playing a variety of other roles. All of this is supported with live music wonderfully performed by Joshua Belperio. The engaging and whimsical storytelling keeps everyone captivated and the audience interactions are non-threatening. Children and adults are delighted by the spectacle before them.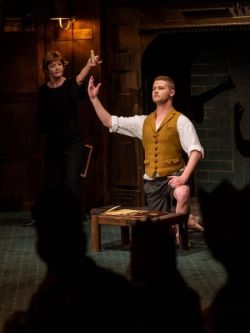 All hail Wendy Todd for the jaw-droppingly gorgeous design and Andy Packer for the directorial vision. The pre-show artworks, the props and the set are intricate and beautiful. Little surprises await inside hidden doors and drawers in the set, with one of the best saved until last. We shan't spoil that for you, but trust us, it's absolutely magical.
Lachlan Barnett and Genevieve Picot are excellent performers. They show great energy and teamwork. Their imaginations and playfulness shine through. The supporting cast in the pre-show section are all very focused and dedicated. Everyone is well-rehearsed and when called upon to improvise, are quick witted.
Nicki Bloom has done Wilde's work great justice. It's easy to imagine he would be enchanted by this production. The important themes aren't watered down in any way, yet it is very family-friendly entertainment. It doesn't feel too preachy or overtly political, but you get the message. Compassion for one's fellow human is the regalest quality one can possess.
The Young Kingis a magical and uplifting show. It's fun for all ages. This kind of work warms the heart and makes the world that little bit more bearable.
Kiesten McCauley
Photographer: Darren Thomas