Patch Theatre Company. Space Theatre, Adelaide Festival Centre. 27 Jul – 10 Aug, 2019.
Sometimes a reviewer is fortunate enough to feel as though they may have witnessed some kind of unprecedented breakthrough in theatrical imagination through technology. Zoom is indeed one of those occasions, and the brains behind this show can truly be said to have conjured up something that felt like magic.
Inspired by the iconic children's picture book Harold and the Purple Crayon by Crockett Johnson, Patch Theatre have bravely attempted to engage their young audience using a minimum of dialogue, characterisation, plotting, and performers (just two of them, with only one visible until the end). Instead, a host of wizardly visual and technical illusions are deployed, creating the irresistible sense of a tapestry direct from the imagination of a wizard.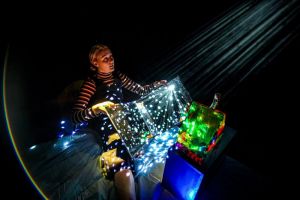 Zoom does not, however, reach the pinnacle of perfection – and one truly feels as though it has the potential to do so. Patch have kept the running time wisely brief, and it's entirely possible that any youngsters lucky enough to see the show won't feel that anything is missing. On the other hand, this reviewer was left hoping for the satisfaction of a climax or resolution that was not forthcoming.
It's probably churlish to wish for conventional structure to be imposed onto what is clearly a risky, accomplished, and visionary achievement. At the very least, Patch Theatre have managed with Zoom to leave one breathless, not only with admiration, but also anticipation for what they might have up their sleeves next.
Anthony Vawser
Photographer: Matt Byrne