Music and Lyrics by Andrew Lippa, book by Marshall Brickman and Rick Elice. Mercedes College. Directed by Kathleen Cocks. The Regal Theatre, Subiaco, WA. 27-29 July, 2018
Mercedes College's production of The Addams Family was a lavish production that belied that it was a school production with professional production values, excellent direction and an exceptional young cast.
At least one audience member refused to believe that lead characters Morticia and Gomez were played by students, saying that they looked and sounded far too mature. Fifteen year old Jayda D'Agostino and Christopher Alvaro, who had his 18th birthday during the brief run, delivered very mature performances to match their well developed voices and sophisticated appearance.
The plot for the musical is based on a teenage Wednesday Addams falling in love with "normal boy" Lucas Beinecke. Stephanie Shaw and Harley Dasey were convincing and contrasting pairing, both singing beautifully and delivering nicely nuanced, performances.
Lucas' parents, Alice and Mal, have possibly the largest character arcs and were played with great finesse by Neve Havercroft and Ashley Garner, with excellent comic timing and strong voices.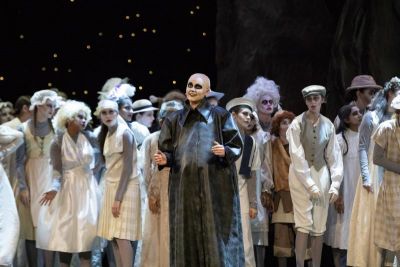 Keely McMillan is the youngest actress I have seen play Grandma, at over 80 years too young for the role, but had the strongest grip on the character I have seen. Uncle Fester was played by Charlotte Kiely, in a fine and funny performance and was an audience favourite. Also gender-flipping was Ella Simpson, a charmingly malicious Pugsley, who owned her scenes. Patrick O'Donaghue took Lurch to unexpected places with lovely expression and a gorgeous bass voice.
Special mention must be made of Alexandra Favas, a gorgeous silent presence as Cousin Itt.
An ensemble of 66 added great support, as dead ancestors, guards and maids. A dedicated dance chorus showed Emily Hunt's choreography to most advantage, but all of the ensemble (which like the lead cast included some 'borrowed' young men) moved very well, sang impressively and were always acting.
In the 'pit of pain" Musical Director and Vocal Coach Harry Oliff led a strong orchestra of students and community members.
The look of the show was outstanding, with impressive sets by Performing Arts Link moving seamlessly by cast and a student crew led by student stage manager Madeline Kiely. Lighting designed by Kerrie Wilshusen was expertly atmospheric. Costuming, designed by Jo Driscoll, was stunning, with over fifty ancestors in unique but aesthetically linked designs and the principals' costumes familiar but beautifully finished and often having surprises.
Mercedes' second production at The Regal continues to set a benchmark for school productions, beautifully polished and presented while remaining a learning experience and a product of the students.
Kimberley Shaw