ROBERT MOTTON led 40 students from Melbourne's Ringwood Secondary College on a month long world tour in March. Lucy Graham reports that it was a lap of honour for a teacher any school would treasure.
Robert Motton first cheated death at 13, when he outstayed his welcome on a flying fox and landed on his head. His father gingerly drove the family home to Coburg, where X-rays revealed a fracture circling his skull. According to his mother he came within an inch of being "gone". Robert spent weeks in his parent's bedroom to inhibit his night wanderings. That was the summer, and he was back on stage by September.
Now, on the cusp of retirement, it seems fitting to appraise how a boy, who wanted to join the army, became a pivotal figure in performing arts education. Before accepting a place at Duntroon, his school master at Ivanhoe Grammar cautioned him. Motton remembers, "he said, you like the theatre of the cadets, you're not necessarily into the real thing. You need to think about why you want to do what you want to do."
Motton stems from a long line of amateur theatrics amongst his mother's kin: a legacy that cast him as director of hundreds-of-thousands of children and young adults over 30 years. As Director of Performing Arts at Ringwood Secondary College, Director of The Gang Show, The Australian Girls' Choir and annual EMR concerts, he has also managed a fulltime teaching position and speaking engagements with Saxton Speakers.
Although Motton helped inspire "Mr G", in Chris Lilley's television serial Summer Heights High, he is clearly no 'Mr G'. His generously built body bears unremarkable clothing, and his Holden Commodore station-wagon is more functional than flamboyant. Instead his irrepressible purpose fills every room. "People say we're really lucky to have all these boys doing the musical at Year 12, but if you think luck's got anything to with it you're an idiot," he scoffs. "There's a whole program underneath this that makes it happen."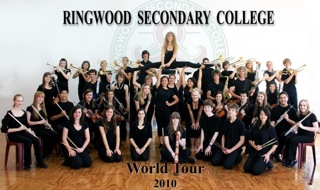 His over-achieving began in the Scout movement – where he received the highest accolades at every level, including the 'Queen Scout' and the 'Baden Powell Award'.
"Even as a child Rob was at the front of things, and willing to have a go at anything," recalls scout leader Neil Weatherill. "When Motton was denied his music badge after one piano lesson, he just did something about getting better."
Motton's parents, Brian and Nola, ran "a ridiculously lucrative bloody business" in plant hire and construction in Coburg where his father worked 17-18 hour days for 40 years. So central was work to the family ethos, that home was, "an 11 square office with adjoining bedrooms". Kid-fights would instantly cease when the phone rang.
Motton became a teacher after a stint in the family business. "[Dad] realised it wasn't me," says Robert. "His thing was whatever you do, do something you love doing because you've got to do it for a long time."
"[Teaching] feels like I'm being paid to play," he says, "I've never woken up in the morning and said I don't want to go there. You invent a new game – you know, come up with stupid ideas and see if we can do it." And generally the 'stupid ideas' take off. This year he led Ringwood Secondary College'sfourth world tour.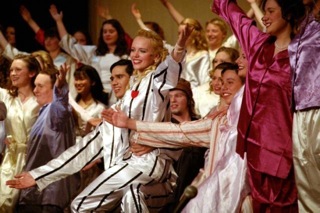 41 musicians, dancers and actors from the school's middle to senior levels performed in Canada, The US, Europe and Thailand.
The performance, "This is Melbourne, Australia!" told the story of Melbourne's history, featuring music, singing, dance, drama, puppetry, projection and audience interaction.
It is an extraordinary opportunity for the students and almost unheard of in the public education system.
Judith Curphey, founder of The Australian Girls' Choir, and former music director at Ringwood Secondary College, has worked with Motton for 30 years. She recalls their first encounter at a school production meeting in his first year, when he "just waltzed in and volunteered for every job".
"I kept thinking who is this upstart, he thinks he can do everything," she says, "and it got quite embarrassing because there was nothing much left to do. At the first rehearsal he started taking over, and as it turned out he could do everything," she says.
Marriage to Di after buoyant bachelorhood was a surprise to some. Some thought he would never settle down, but suddenly there he was marrying a girl with two sons, and then had two daughters.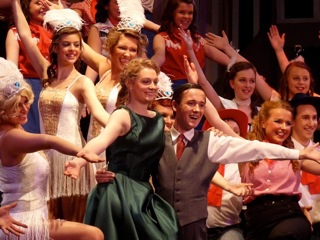 But Motton's drive is not trouble-free. At mention of his family, his voice softens. "The family's probably suffered a bit, not a lot, from the fact that I do all this stuff outside," he murmurs. "The only reason I can do it is because Di's prepared to put up with the shit. I just appear and leave when I need to. But that causes all sorts of stress.'
Motton is a perennial performer. On a visit to Disneyland Robert spontaneously joined the parade, dancing and waving to the crowd. "He just became one of the characters and left Di standing with the kids,' says his brother Wayne.
His mother Nola agrees, "Robert likes to lead the laugh. He likes to tell the joke that makes everybody else laugh, and then he joins in louder than anybody as though it's the first time he's heard it too."
Perhaps Motton's most profound skill is an ability to organise hundreds of young performers efficiently. "He's got a hugely clever mind," says Curphey, "and so when I'd say, we've got to get 300 on stage, he'd say crazy things like let's have 3000 balloons and swing them from the rafters. And he'd work out a way to do it."
Several invitations into more lucrative careers have been declined. "If I'd been Robert I would have jumped at some of those opportunities," says his wife. "I don't understand really why he hasn't, apart from the fact that he doesn't like change, he's found a niche and it works well."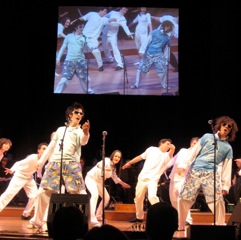 Robert Motton cheated death for the second time a few years ago, suffering a heart attack after cycling home in record time.
"He admitted himself [to hospital]," says Curphey, "and then he died, and they brought him back. But he made a big joke of that. He makes a joke of everything."
No-one, least of all Motton, seems able to imagine what retirement will bring. Even the prospect of amateur theatre seems unappealing to him. "See those two over there," Motton says at a Gang Show rehearsal, "they're the result of a Gang Show marriage. It's just not the same when you can't see the kids growing and developing."
One's greatest strength is often our greatest weakness. Motton is willing to offer his abundant time and skills, but gives little of himself away. It is deeply frustrating for those who love him, and immensely empowering for his students. As he takes his final bow, I suspect his brother is right when he says the farewell gift Motton would most cherish is another 20 years doing what he loves.
Originally published in the November / December 2010 edition of Stage Whispers.