Book by Thomas Meehan. Music by Charles Strouse. Lyrics by Martin Charnin. Directed by Fiona Mahl. Canberra Girls Grammar School. September 14 – 16, 2017.
This is a fun production of what is now a classic musical, and it is perfect for many students to participate in. It is greatly to the credit of Canberra Girls Grammar School that not only are many students performing on stage, they are also in the orchestra led by the musical director Natalie Guile.
In the performance I attended, Mia Byron played the part of Annie, showing her acting skills as well as a sweet and true voice. Steph Maclaine was great as Miss Hannigan, with a larger-than-life character and a good rendition of "Little Girls". Chris Tan played the part of Rooster.
The troupe of orphans were full of life and energy, and their standout choruses were "Hard Knock Life" and "Dressed", where they cheekily imitated the stars of the radio show.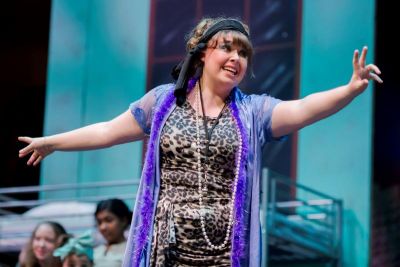 Danny O'Neill played Daddy Warbucks and "You Won't Be an Orphan for Long" was enjoyable. Anna Khan played Grace, and her singing was superb.
Set design by Glenda Spiker made use of all of the stage, giving a good impression of New York by night, and later on, Daddy Warbucks' house. Costume design by Juliet Harris was especially good for the staff of Daddy Warbucks, and the orphans.
Sound was occasionally patchy and it would have been good to hear more of the lower brass instruments at points in the score. The trumpets were outstanding.
This was an enjoyable school production and all credit to the staff, students and helpers.
Rachel McGrath-Kerr