Music and Lyrics by Cole Porter. New Book by Timothy Crouse and John Weidman. Ringwood Secondary College. Aug 5th-13th, 2016
Musical Theatre has never been healthier within the community. Many high schools now have a performing arts centre and a curriculum to match. School productions are now so sophisticated, that they're capable of winning awards and putting out House Full signs. Indeed, last year, the Music Theatre Guild of Victoria awarded its Junior Production of the year to Ringwood Secondary College for their marvellous version of Oliver! Small wonder that their 2016 production of Cole Porter's Anything Goes has been eagerly awaited.
Porter is a legendary composer but it's fair to say that his vision of 1930s USA is a long way from what students experience in 2016 Ringwood. Double credit then for this amazing production, somehow managing to imbue the cast with an understanding of that past era, along with a natural affinity for the lyrics and style of older times.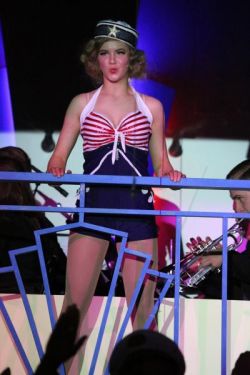 Directors Michael Kent and Gaynor Borlase, along with Music Director (and Director of Performing Arts) Ben Moody, have crafted a show that zings with energy and vitality. The band is excellent, the costumes are luscious and the choreography is always on point. True, not all voices are as strong as they might be, and there are some pitch problems, but there are also great comic moments, performers oozing stage presence, and tap routines to delight the most fastidious of fans.
The show's madcap storyline of mistaken identity and escaping criminals all takes place on an ocean liner and the set works a treat.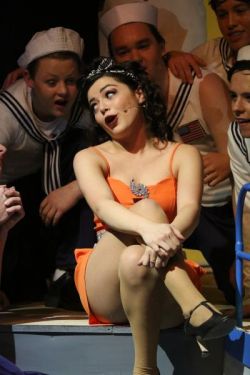 Two casts alternate at performances, and although the photos feature Maddi Riley, I had the pleasure of seeing Kirsten Manuel play Reno Sweeney, a role that the great Caroline O'Connor made her mark with only last year at Melbourne's Arts Centre. Kirsten has a lot in common with Ms O'Connor, but even more with a great Broadway star of yesteryear, Ethel Merman. Kirsten is brash, full of confidence, has charisma on stage and great comic timing. She is a force to be reckoned with. While she doesn't have sweet head notes or a great top register to her voice (neither did Merman) she knows how to belt a number and connect with the audience in a way far beyond her years and experience.
Sam Clarke is an adorable Billy Crocker who knows exactly where to place a line and get a laugh. His voice is passable and he is endearing, but it's simply cruel to put him in a tails suit which is as least two sizes too big. He deserves better.
Harley Pettet was terrific as Lord Evelyn and Caleb Lindner showed real comic chops as Moonface Martin. All of the principals showed great energy and stage presence but the show was almost stolen by Patrick Masterlerz as the Purser. He showed a level of professionalism which is ready made for a career in Musical Theatre if that's his desire, and he already knows how to work an audience. The rest of the cast are a delight, and a special mention must go to Denise Rash for the stunning costume design and wardrobe.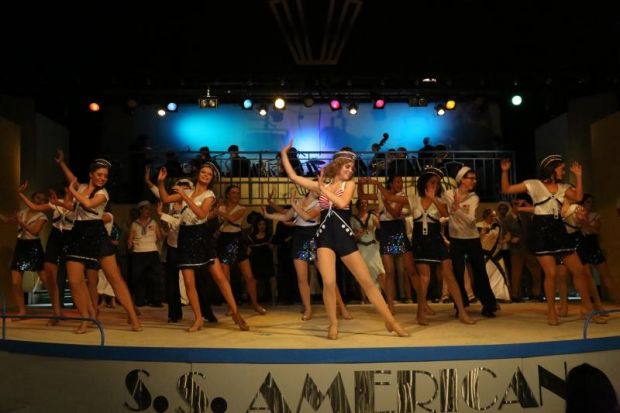 This is not just a production for family and friends. All the creatives have worked hard to create a production that is highly entertaining for the entire community, and they've succeeded. And it's an added bonus that we all know the great Cole Porter songs.
Anything Goes runs at the Ringwood Secondary College Performing Arts Centre until Saturday 13th August.
Coral Drouyn