Music and Lyrics by Cole Porter, Book by P. G Wodehouse. Guy Bolton, Howard Lindsay and Russel Crouse. John Curtin College of the Arts. Directed by Natalie Edmunds. Curtin Theatre, John Curtin College of the Arts, Fremantle. 26-29 June, 2019
"Delightful, delicious and delovely" - John Curtin College of the Arts' Senior Musical features students from Years 9-12 in a toe-tapping production that is really is delighting its audiences.
Audiences board the SS American - beautifully presented on three levels by designer Lea Klein, with a talented orchestra, comprised mostly of school students, playing from the uppermost deck. Scene changes are smoothly facilitated by "sailors", keeping us 'on board' with the theme throughout.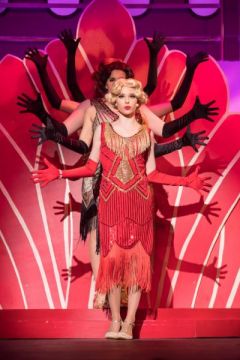 Sebastian Cruse skilfully leads a talented cast as Billy Crocker, blending triple treat skills with larrikin charm. Katy Price is a pocket-size femme fatale as Reno Sweeney, with a big personality and a huge voice (she shares the role with Bree Hall). Eilidh Sinnamon brings depth to debutante Hope Harcourt, singing beautifully - with Gregory Francis completing this show's love quadrilateral with comic skills as Lord Evelyn Oakleigh.
Harrison Wake is excellent as con-man Moonface Martin - an impressive musical comedy master (alternating with Mahaveer Hemraj), with Emily Blyth an audience favourite as rough diamond Erma. Emily Chivers brings maturity to Evangeline Harcourt, working nicely with Patrick Cullen as Elisha Whitney (he doubles with Michael Orange).
Strong work in smaller roles and the ensemble - especially from Ship's Captain, Daniel Hyde, Reno's gorgeous Angels and the sailor quartet.
A big show, filled with the joy of performing, highlights include the fabulous full cast tap performance of the title song, the fabulous "Blow Gabriel Blow" and some stunning individual performances.
Well worth seeing for a glimpse into the future of Australian musical theatre, Anything Goes is dewonderful.
Kimberley Shaw