Young Australian performers will collaborate with New York City theatre professionals on new student edition of Newsies.
A cast of 40 young Australians will take part in an exciting week-long pilot of Newsies JR., a new student version of the 2012 Tony-winning Disney Theatrical Productions Broadway production. The select group of students will participate in an intensiveworkshop on Monday23rd – Friday 27th October 2017,the week leading up to the second annual Junior Theatre Celebration Australia (JTCOz) event, which will be held at the Civic Theatre, Newcastle onSaturday 28th October, 2017.Newsies JR.is a 60-minute version of the stage musical, which in turn was based on the 1992 musical film "Newsies," inspired bythe Newsboys Strike of 1899 in New York City. The musical features music by Alan Menken, lyrics by Jack Feldman and a book by Harvey Fierstein.Newsies JR. is a new version adapted for student performers andwill be performed by educational musical theatre programs in the future through Music Theatre International.
"MTI Australasia is so excited to be able to support the development of up-and-coming musical theatre stars in this country. We can't wait to see what they create during the Pilot week,"says Stuart Hendricks, Managing Director of Music Theatre International (Australasia).
Now in its second year, the 2017 Junior Theatre Celebration Australia (JTCOz) provides an opportunity for young Australians ages eight to 18 years to celebrate their love of musicals and experience the transformative power of theatre. The eventis produced by OzTheatricsand the AMICI Trust, in collaboration with international partner iTheatrics and sponsor Music Theatre International (Australasia).
"This is quite a coup for Newcastle and Australia, which once again recognises our ability to be creating world-class young performers right here in Australia. We are extremely grateful that Disney has allowed us permission to test their show," according to Daniel Stoddart, from OzTheatrics.
The Newsies JR. pilot offers young people who love musicals the opportunity to be part of a process that mirrors the demands of developing a musical in the professional theatre world. Rehearsals are fast-paced and intense. The workshop culminates in a staged presentation of the show.
"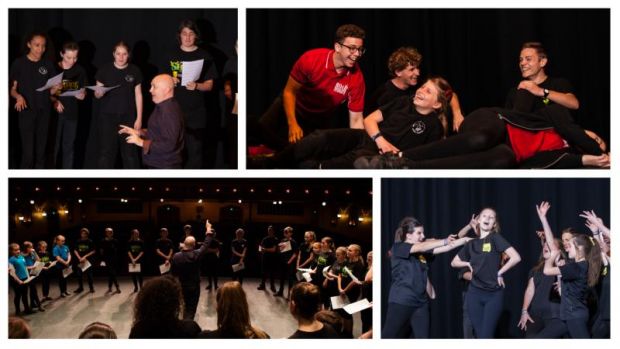 Applications are now open for students to submit an audition tape to participate in this new pilot program. However, students can only be selected if their group has registered for the Junior Theatre Celebration,"says Shane Bransdon, from OzTheatrics.
Throughout the week, dialogue, music and choreography are work-shopped and tested to ensure the musical adaptation is suitable to be performed by student musical theatre performers. Students get to perform with peers who care just as much about the arts as they do. Because the young thespians are performing a musical that is actively being developed, the production will focus on storytelling and not production values.
The pilot program is coordinated by Aussie based organisation OzTheatrics, and will be directed by Timothy Allen McDonald, musical theatre author (Roald Dahl's James and the Giant Peach, Between the Lines) and founding chairman of iTheatrics New York; Marty Johnson, iTheatrics Director of Education and Resident Director, New York;and Steven G. Kennedy, iTheatrics Resident Choreographer, New York.
iTheatrics is the leading international authority on musical theatre for young people, headquartered in New York City.Timothy Allen McDonald founded iTheatrics in 2001 as a way of making theatre more accessible for young people and, in turn, leads a dynamic and talented group of artists and educators who are indeed changing the world through the transformative power of musical theatre.
"It's fitting that for our first-ever pilot production in Australia, we are working on a show about young people creating a better world through imagination and determination, says Timothy Allen McDonald. "We have been so impressed by the world-class artistry we have seen from student performers representing Australia at our U.S. Junior Theatre Festivals and at the past Junior Theatre Celebration in Australia. We knew it was time to celebrate their dedication, creativity and storytelling by giving them a different kind of role in the international educational theatre scene."
The Junior Theatre Celebration Australia (JTCOz) draws groups representing primary and secondary public and private schools, along with private acting academies from all over Australia, including many Novocastrian participants, such as Hunter Drama and Young People's Theatre. A host of national and international musical theatre celebrities will travel to Newcastle for the event and to be part of the Newsies JR. premiere.
At the 2017 Junior Theatre Celebration, Australia youth theatre groups will perform a 10-minute extract of their Broadway JR™ production for adjudication by industry professionals, take part in triple-threat workshops, and will be honoured in a culminating awards and closing ceremony.
Basic Details:
· Pilot Week: Monday 23rd – Friday 27th October 2017
· For audition applications and group registrations, go to www.oztheatrics.com

Background:
Music Theatre International
Music Theatre International (MTI) is one of the world's leading theatrical licensing agencies, granting theatres from around the world the rights to perform the greatest selection of musicals from Broadway and beyond. Founded in 1952 by composer Frank Loesser, and orchestrator Don Walker, MTI is a driving force in advancing musical theatre as a vibrant and engaging art form.
MTI works directly with the composers, lyricists and book writers of these musicals to provide official scripts, musical materials and dynamic theatrical resources to over 70,000 professional, community and school theatres in the U.S. and in over 60 countries worldwide.
MTI is particularly dedicated to educational theatre and has created special collections to meet the needs of various types of performers and audiences. MTI's Broadway Junior™ shows are 30- and 60-minute musicals for performance by elementary and middle school-aged performers, while MTI's School Editions are musicals annotated for performance by high school students.
MTI maintains its global headquarters in New York City with additional offices in London (MTI Europe) and Melbourne (MTI Australasia)
Broadway Junior™
Developed by renowned educators and designed to suit school assemblies as well as the energies and attention spans of younger performers, Broadway Junior™ musicals are perfect for teachers or directors who are new to musical theatre and seeking to introduce students to the joys of participating in a show.
Conceived in 1996 by MTI CEO Freddie Gershon, Broadway Junior™ musicals are condensed, author-approved versions of classic musicals, Disney favourites, and modern works, custom-tailored to the needs of young people and schools.
The music is written in keys that are appropriate for developing voices, and all shows can be expanded to accommodate as many performers as can fit on your stage. Broadway Junior's 30-minute KIDS shows are generally appropriate for performance by elementary school-aged students, and its 60-minute JR. shows are typically appropriate for performance by middle school-aged students.
The best part is that everything you need to produce a Broadway Junior™ musical is included in the accompanying state-of-the-art ShowKit® of materials...and is yours to keep!
Popular titles include: Annie JR., Disney's The Little Mermaid JR., Disney's The Lion King JR., Hairspray JR., Disney's Aladdin JR. and Guys and Dolls JR.
About iTheatrics
Founded in 2006 by educator and author Timothy Allen McDonald, and headquartered in New York City, iTheatrics is the world's leading authority on musical theatre for young people.
iTheatrics develops collections of musicals for leading musical theatre licensing agencies including the Getting To Know Collection (R&H Theatricals), the Young Performers' Edition of musicals (Tams-Witmark Music Library, Inc.), the 101 School Editions of musicals (Samuel French Inc.), and the Broadway Junior Collection® and School Edition musicals (Music Theatre International and Disney Theatrical Group). Working with esteemed partners in the Unites States such as the President's Committee on Arts and the Humanities, New York City's Department of Education, the Kennedy Center, McGraw-Hill Education and NBC Universal, iTheatrics develops and implements dynamic programs to build cost-effective and sustainable musical theatre programs in underserved schools. iTheatrics produces the now bi-coastal iTheatrics Junior Theater Festivals, the world's largest festivals exclusively dedicated to celebrating young people and student-driven musical theatre.
Find out how you can make the world a better place ̶ one musical at a time ̶ at iTheatrics.com.