At the premiere of Barking Gecko's (WA) latest production, an adaptation of Craig Silvey's short story The Amber Amulet, author, Craig Silvey addressed the opening night crowd, "At Barking Gecko I have always felt in the safest of hands and I think this beautiful show speaks for itself. Perth is tremendously lucky to have John Sheedy."
"The Amber Amulet is a coming of age story that doesn't take itself too seriously," says Artistic Director, John Sheedy, "It is the second West Australian work we have adapted this year and it's such a privilege to be able to work creatively with Craig Silvey and Shaun Tan. There is something about the way they tell stories, whether it be through illustration or words, that grabs the readers attention making it perfect to adapt for the stage."
Julie Dawson of Stirling who brought her three children said, "I liked how everyday problems were brought into the story so kids could relate to it. Given my kids are aged between 9 and 15, The Amber Amulet had a perfect mix of humour to entertain all of them and me as well!"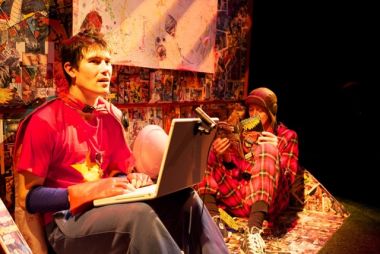 THE AMBER AMULET
Meet Liam Mckenzie, a twelve-year-old boy aka The Masked Avenger, a superhero with powers so potent, so vast, not even he can fully comprehend their extent.
Dressed in his superhero outfit and accompanied by his best friend, Richie the
Powerbeagle, the Masked Avenger roams his neighbourhood late at night fixing sprinklers and putting away forgotten rubbish bins.
But all is not well on the quiet street. The Masked Avenger is concerned about Joan,
a woman who lives down the end of the street and weighed down by her troubles.
The Masked Avenger believes the Amber Amulet can save Joan, and over a secret mission late one evening, they meet face-to-face, and an extraordinary friendship is formed.
Craig Silvey, best-selling author of Jasper Jones and Rhubarb, has created a new generation of superhero in this stunning and hilarious coming of age story, filled with pathos and humour.
Suitable for 8+ and families
2011 Season Subiaco Arts Centre | 4 Oct – 15 Oct | 10.30am & 1pm *Auslan performance Wed 5 October at 1PM Q & A Sessions run after the 1PM performances on the 5th & 12th October
Book through BOCS Ticketing - www.bocsticketing.com.au or 9484 1133
Photographer: Matt Scurfield.
To keep up with the latest news and reviews at Stage Whispers, click here to like us on Facebook, or follow us on Twitter.