Music by Alan Menken. Lyrics by Howard Ashman and Tim Rice. Book by Linda Woolverton.Mandurah Baptist College. Directed by Kyle Retallack, Musical Direction by Nerida Middendorp. Lakes Theatre, Lakelands, WA. March 16-24, 2018
Mandurah Baptist College's production is a large scale, feel-good show with lots of community involvement and showcases some excellent performers.
Performed in MBC's own Lakes Theatre, a 1200 seat venue that most schools would envy, the production uses a nine piece music ensemble made up of both students and staff.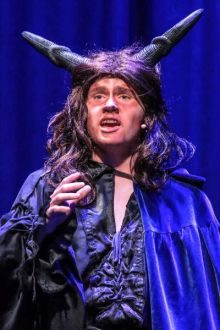 Students also featured in the very competent sound and lighting (Luke Price, Sam Hennessy and Sinead Donohue - under the guidance of Nathan Cox and Cameron Brew), in the lovely costume design (Yr 12 General Drama, constructed by Fun With Fabrics), in the clever set design (Yr 12 General Drama) and in Stage Management (Bradley Tolley and Montana Nic) and crew.
Strong performances abound. Ashley Garner makes a strong and highly nuanced Beast, with an excellent singing voice, nicely paired with a very sweet Nina Mansfield as Belle.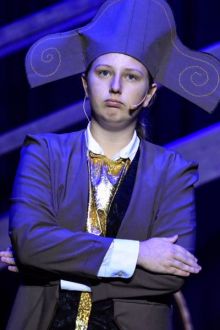 Lovely teamwork from the palace household staff. Matthew Manning was a superb and flamboyant Lumiere, nicely offset by Abigail Thomas' efficient Cogsworth. Georgia Cant brought lovely character to Mrs Potts. Eibhlis Newman was lovely as Babette and her pas de deux with Matthew Manning (Lumiere) was particularly strong. Christie McGarrity embraced her inner diva, standing out as Wardrobe.
Joshua Peckover belied his late addition to the cast as Gaston, and had a great on-stage relationship with the pocket-rocket that was Kinya Van de Polder as Lefou. School captain Rp van der Westhuizen was excellent as Maurice. Lovely work also from The Silly Girls - Molly McGarrity (stealing some great laughs), Emerald Aindow, Thea Cook, Jodi van Rensburg, Jessika Gooch and Caillee George. An an ensemble of 44, provide energy and support.
I was a little surprised, given the calibre of the show, not to mention the size of the cast, that it was relatively easy to get a ticket during the first week of this show. I am assuming that this will change in the final week. Much better than one expects from a school show, with a wonderful exuberance, MBC's Beauty and the Beast is well worth your time.
Kimberley Shaw