ST STEPHEN'S School in Duncraig (WA) goes Dutch from August 8 with The Book of Everything.
Adapted by Richard Tulloch from Guus Kuijer's children's novel, the play centres on nine-year-old Thomas who makes a record of everything he sees and experiences in the real and spiritual world.
It's described as a story about courage and self-belief, told with "artless simplicity", and explores the themes of domestic violence, religious tolerance and faith, the strengths and frailties of people, cowardice and courage and the power of love.
Directed by Drama teacher / director Amanda Crewes believes The Book of Everything is an important play that addresses deeply significant issues affecting families and the church today.
"It's a moving story about a special boy's abilities that help him to cope with his unhappy childhood," she said.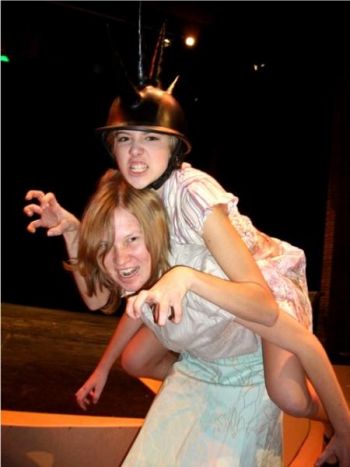 "Thomas' innocent view of things is heartwarming and serves to remind us that children have a very different perspective on things and, as adults, we always need to be mindful of that.
"This is a story that speaks to our souls – it makes us aware and gives us courage to stand up and say no, and be more determined to protect the magical world our children live in.
"With the help of strong female role models, even in the face of adversity, Thomas manages to hold true to what he believes in and is able to stand strong even though he is terrified and feels like he, as he puts it, 'swallowed a hippopotamus'."
Crewes said the play gave a voice to those who are often voiceless.
"It gets us talking, which is essential, especially because children have very different perspectives on things and many will be facing these kinds of issues," she said.
"As adults, it makes us aware of situations that perhaps we would prefer not to acknowledge."
Performing from age eight, Miss Crewes has been involved with Playlovers since she was 12 and went on to study at the WAAPA.
Since then, she has worked professionally with Effie Crump, Class Act, Handzon, Agelink, Kompany M and Barking Gecko Theatres, Dirty Dicks Theatre Restaurant and the Perth Theatre Company.
As a drama teacher, Miss Crewes directed the highly-successful Grimm Tales at St Stephen's School in 2011 and remounted it for a special Christmas season at Playlovers later in the year.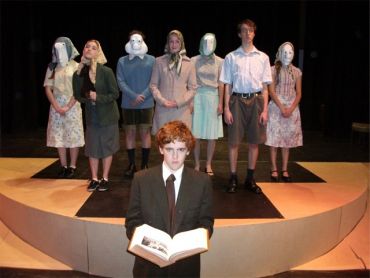 With The Book of Everything, she said wanted to create a magical world of innocence that is vital to the story.
"It's something we have all experienced as children and, as a result, it's a very physical piece of theatre, placing huge demands on the actors," Crewes said.
"As it is all seen through young Thomas' eyes, it demands for over-the-top, eccentric characterisations.
"It's the magic so cleverly balanced with the right amount of truth that makes this such a thought-provoking and ultimately a wonderfully warm, uplifting and poignant story."
The Book of Everything plays at 7pm, August 8, 9, 10 and 11, 2012. Bookings: 9243 2100 or at www.trybooking.com/27552.
St Stephen's School's Duncraig Theatre is at 100 Doveridge Drive, Duncraig.
Images: Drama teacher Amanda Crewes, second from left, directing St Stephen's School students (middle) Lauren Stewart and Raquel Gowan play the Bumbiter, one of the over-the-top, eccentric characters in The Book of Everything and (lower) Andrew Dunstan plays Thomas Klopper, who writes down all his experiences in The Book of Everything, whether real or imagined.