Book by Joseph Stein. Music by Jerry Bock. Lyrics by Sheldon Harnick. Moriah College. October 21 – November 1, 2018.
Think less of a high school putting on a musical and think more of the school spectacular. To celebrate its 75th anniversary, Moriah College put on a production on a scale certainly larger than any community theatre in Sydney.
First you are handed for free an almost 50 page chunky program. Then you look into the orchestra pit and see 26 accomplished adult musicians.
Raised above the stage was an extended choir stall packed with scores of mainly younger students singing joyously in excellent harmony, beamed onto large screens for adoring family to dote on.
A violinist played on the roof of almost life-sized house.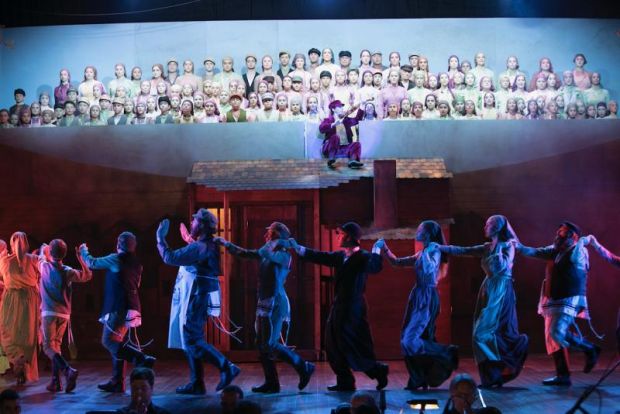 The stage was adorned with an exceptionally very well-crafted wooden set. Tevye's home and the town's tavern looked a little bit more fancy than you might find in a poor Ukrainian backwater at the turn of the century, but with all that sponsorship noted in the program you have to spend it somewhere.
Watching Fiddler on the Roof in an audience almost entirely of Jews comes close to spiritual experience. Any moment I expected the audience to join the chorus of "Sunrise Sunset" and start weeping.
The most unusual aspect of this production was the near absence of students in major principal roles. Such was the gruelling rehearsal schedule that former students filled the roles.
David Solomon – class of 1978 – played the role of Tevye with real Jewish authenticity. Evie Smith – class of 1980 – was a sweet Golde.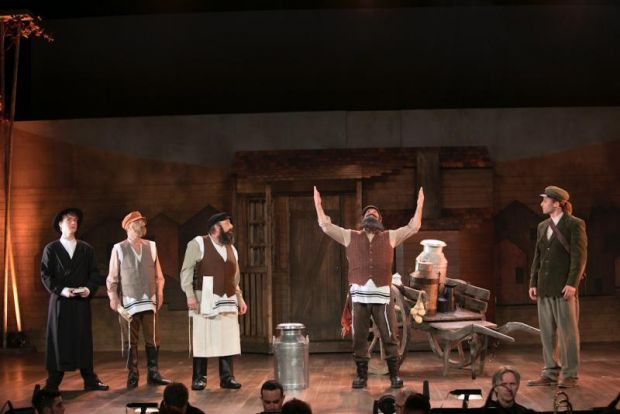 Leah Reid – class of 92 at another school – gave a strong acting performance as Tzeitel, alongside Joel Nothman as Motel – the tailor.
Minor male characters were very entertaining especially David Baran – class of 85 - as Lazar Wolf.
The stand out for me was Miriam Vera Barr as an exceptional Yente – oi vey she was terrific.
However most memorable from this production was the Fruma Sarah nightmare scene, which eclipsed the recent professional production in spectacle.
Director Roberta Goot OAM outdid herself and can now put Fiddler on the Roof back on the shelf for at least a few years.
After all, staging this musical is a tradition.
David Spicer