Music & Lyrics: Stephen Schwartz. Book; John Michael Tebelak. Elizabeth College, Hobart. Director: Justan Wagner. Choreographer: Rebecca Wilson. Musical Director: Les Johnston. Vocal Director: Jennie McDonald. 2 – 10 June, 2017
A charismatic Jesus is needed for the lead in Godspell. Elizabeth College in Hobart was fortunate to have such a one for its most recent production of this well-loved musical. Taylor Lewincamp owned the role and the stage, with a presence and assuredness way beyond his years. There have been many interpretations and presentations of this musical -since its original introduction on Broadway in 1971.
So good to hear the Godspell music again, from the lovely version of "Prepare Ye", sung with drama by Sam Pyefinch, to the vibrant finale. Striking standout solos and excellent ensemble songs were part of the joy of the music, in a cast which showed cohesion teamwork.
The obligatory chain mesh fence was used by director Justan Wagner as the setting of a detention centre, implying a marginalised people, those on the fringe, the poor and downtrodden masses – those who need a saviour, or at least a solution. Others interpreted the setting to be a refugee camp, the message supported by a front of house crew wearing Amnesty International tshirts.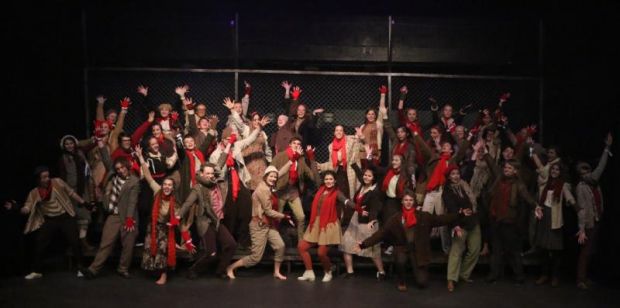 Sets were the fence and a three-tiered seating arrangement, which provided a launching place for action and a platform as the dramatic focal point for the big moments, especially the crucifixion scene. Costumes of recycled or repurposed clothing in beige, brown and white implied drab sameness, while splashes of blood-red implied menace, defiance, joyousness, energy and hope. There were few props, except a soft toy, a bear (I missed the import of that reference) – and clothing, worn then discarded and strewn around.
Another addition was some hilarious, slightly sarcastic one-liners, referring to present-day rulers, adding a topicality, which resonated with the audience. Also humorous was the several dance routines, choreographed by Rebecca Wilson. With 49 actors on stage, the tight choreography came into its own. The company worked well, and did credit to the staff and to all involved to achieve such a vibrant show in a short rehearsal period. The text of the gospel of Saint Mathew came to life in a series of (relatable) games, such as mime and charades, and made the parables live.
This was an energetic, optimistic and thoughtful production. It is so gratifying to see schools in action, providing learning experiences couched in vibrant entertainment options, while producing the citizens of the future. Plenty to laugh, cry, sing to and think about in this production. Thank you ElizabethCollege.
Merlene Abbott