Book by Mark O'Donnell and Thomas Meehan. Music: Marc Shaiman, Lyrics: Scott Wittman, Marc Shaiman. Directed by Darren Sangwell. Rosny College Performing Arts. Rosny College, Hobart. 17 – 27 May 2017
As a full-on, energy-charged entertainment package, Hairspray the Broadway Musical is a
coming-of-age story with something to say. Its twin messages of diversity and discrimination, wrapped up in fun and fabulous entertainment, performed by Rosny College (Tasmania) students told a story, and convinced the audience that these were committed performers.
Set in Baltimore, Marylands, USA in the 60s, the musical is still relevant today - racial discrimination has not gone away, while the problem of "body image" is pertinent to teens everywhere.
The joyous exuberance of Hairspray, played out by a group of students, had excellent direction by Darren Sangwell, controlling the well-rehearsed ensemble. Kristy Baker's choreography was fabulous, with so much happening, but all at the level and capability of the performers, whose skills covered a wide range. Loved the Dynamites!
Elizabeth Nichols (Tracy Turnblad) sings beautifully, with delight in her role, and worked superbly with fellow cast members in full ensemble numbers and one-on-one scenes. Brandon Chilcott (mother, Edna Turnblad) owned the stage with a confidently assured performance. Cassie Ogle (Penny Pingleton) was dizty cute and so competent. David Warren (Wilbur) cast beautifully as the Turnblad father/husband, sang the duet with Edna - "You're Timeless To Me" - an excellent example of comic timing.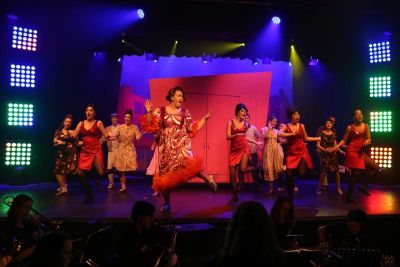 So many leads to congratulate: Oliver Willits (Link Larkin); Georgia Cooper and Laura Cruise (Velma and Amber von Tussle); Mitch Denham (Corny Collins); Izzy O'rourke (Motormouth Maybelle); Akrum Abdaltum (Seaweed); Celeste Davis (Little Inez); and Emily Orange (Prudy Pingleton/gym teacher/ prison warder) all shone. Special mention to Scott Leonart (Harriman F. Spritzer) who carried off this almost-cameo part with dedication and humour. The ensemble work by dance and fun captains and teams was excellent.
Nicole Ottrey did a marvellous job leading the costume crew, sourcing and creating statements of colour and theme, which delineated the roles of the various ensemble teams.
A stunning lighting design lit an effective and efficiently working set of sliding panels. Musical Director Suze Ellis led the tight big band. The set and the effects were excellent.
The only niggle I had was diction, which was a little hard to understand on some lines, but that was probably more a feature of the furious pace of the show and the Maryland accent required. A joyous, wonderful show.
Merlene Abbott