Music and Lyrics: Cole Porter. Book: Bella & Sam Spewack.
Director: Ben Moody. Conductor: Victoria Wyatt.
At Ringwood Secondary College this afternoon, shots were fired, a bird dropped dead, faces were slapped, pot plants hurled, people were deceived, and a whip was cracked. Luckily it was all in the script.
While I must declare a personal interest, with a son and two nephews among the cast, few at today's preview performance could fail to be impressed by the entertaining characterisationby all leads, and the chorus' infectious energy.
High moments included We open in Venice, Tom Dick or Harry, Kiss Me Kate, and Cantiamo D'Amore. The 20 piece orchestra, directed by Victoria Wyatt, is warmly congratulated for crisp and sensitive accompaniment, particularly in Too Darn Hot which was cookin'!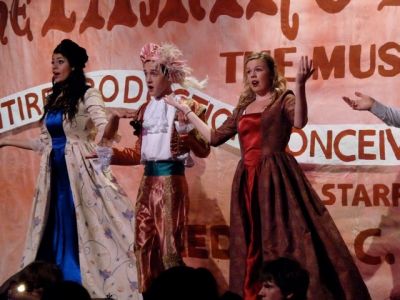 Luck has nothing to do with the fact that of the 80 cast members, around 25 are young men. While certainly a counter-cultural feat, it is directly attributable to the school's extensive music program.
Costuming, thanks to a team of dedicated and creative parents, deserves particular accolades for innovative fabric choices, attention to historical detail and an extraordinary array of hats.
The audience, largely local primary students, was particularly taken with the comical gangster duo, the lively chorus numbers, and the crowd-pleasing donkey.
This show is warmly recommended to those whose hearts are lifted watching young adults strut their stuff with confidence and skill. Go twice for double the dose.
Lucy Graham
Performance dates: 8pm August 11, 12, 14 (2pm matinee), 17 (at 6pm), 18, 19 & 20, 2011. Bookings.
Photographer: John Nichol
To keep up with the latest news and reviews at Stage Whispers, click here to like us on Facebook, or follow us on Twitter