Music and Lyrics by Laurence O'Keefe and Neil Benjamin, Book Heather Hach.Scotch College, Torrens Park (SA). 27 July to 4 August, 2018.
Legally Blonde is a musical with a book by Heather Hach. The story is based on the novel and the 2001 film of the same name starring Reese Witherspoon.
For those few who have not seen the film, Elle Woods seemingly has everything. However, she is dying to be Mrs Warner Huntington III. But there is one thing preventing Warner from proposing: She is too 'blonde'. Elle rallies her friends and resources to get into Harvard, determined to win him back. She meets Emmett and Paulette who help her fulfil her dream; or do they?
This is an ambitious musical that a lot of amateur companies would discard as being too difficult. Legally Blonde requires numerous set and costume changes and contains some difficult music, not to mention large dance numbers.
Scotch College is well known for choosing musicals that challenge their students and Legally Blonde certainly does that and does it well. Thanks to the meticulous direction of Linda Williams, musical direction of Briony Nickels and the choreography of Nina Richards the cast work to their capacity while maintaining the high standards required to present this production.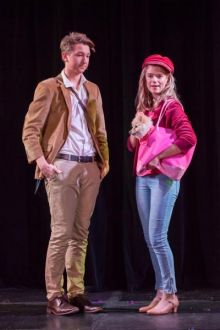 There are two alternating casts for the nine major roles, named UCLA and Harvard. I saw the Harvard cast, so my review will be based on them.
The central role of Elle depends on a singer who can belt as well as sing the quieter numbers. As an audience we should connect with her, sympathise and celebrate. Onor Nottle is ideal for this role; initially 'blonde', she develops as the musical progresses and becomes her own woman. Her number "Run Rufus Run/Elle Reflects" is a highlight.
Harry Fiedler has the right look as Emmett. Initially Elle's friend, who becomes more, he's scruffy but with the potential to be so much better. Fiedler has a powerful voice that hits the heights, particularly in his number with Elle, "Legally Blonde".
Hugh Whittle's Professor Callahan, initially cynical of Elle, is wisely underplayed but firm. His vocal style varies from almost crooning to strong belting. His number "Blood in the Water" is a lesson on being quietly sinister.
Savannah Stevenson's Brooke, the wrongly accused exercise queen, commands the stage. Her number "Whipped Into Shape" demonstrates her stamina both in vocal power and dance.
The standout on the night is Georgina Taeger's portrayal of Paulette, the hairdresser who dispenses home grown wisdom while having a backstory of her own. One highlight of the night is Paulette's story of her heritage, "Ireland". It drew well-deserved applause.
Another high point belongs to virtually the whole cast. "Gay or European?" is hysterically funny, both in performance and content.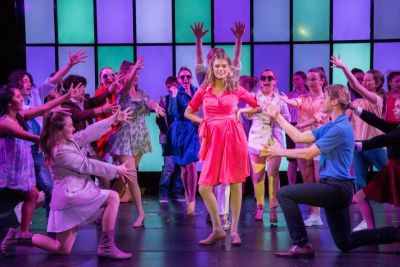 I have only mentioned a few principals. The other principals' solid performances helped to make the musical the joy it was. Matthew Daniell's Warner, Georgia Raftopolous' Vivienne, Adele Hubmayer's Enid, Phoebe Ryan-Kane's Whitney and many others all contribute to enrich the production.
Special mentions to the law students in their number "The Harvard Variations" and eye candy Harry McGinty's Kyle, who oozes male sex appeal as the delivery man who wins Paulette's heart.
While Legally Blonde was well performed, danced and sung by the performers and band, on opening night initially there were problems with the balance between the band and cast, resulting in the lyrics of the opening number being difficult to hear. However, this is a minor criticism, which will no doubt be ironed out as the production develops.
Legally Blonde is a highly entertaining musical that showcases the talent of Scotch College students, their energy and dedication.
Barry Hill