Book and Lyrics: Howard Ashman, Music: Alan Mencken. Directed by Beth Parkinson. Mazenod College, Lesmurdie, WA. July 15-22, 2017
Mazenod College's Little Shop of Horrors is presented in one of those cavernous gym-a-toriums found in many schools, and notorious for being cold, with poor sightlines, having little atmosphere and poor acoustics. Mazenod's production manages to transform this space with oodles of care, decorations that even spread to the restrooms and lovely attention to detail.
Beautifully presented, with clever black-and-white theming through Act One, on a very well-constructed multi-level set, costumes (Jane Gilbert and Anne Greenley) were very well chosen and lighting (Chris Hewitt and Rhys Pottinger) was expertly implemented.
Sound was very nicely managed by Sam Jones and Connor Etherington, with great balance and without the problems you would expect in a huge venue with a sizeable live band.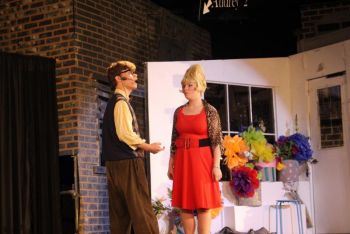 The 16 piece orchestra was tight and well-managed by Musical Director Sam Graham, with vocals supported by an offstage choir.
The performances were very credible with Jordan Boase, sweetly geeky as Seymour, anchoring the show well. Asher Harris really understood Audrey, playing her as a gorgeously awkward girl with simple dreams. Benjamin Gregory aged nicely into the role of Mushnik, while Chris Alvaro stole scenes, beautifully broad stroke as sadistic Orin Scrivello DDS.
Audrey II, the man-eating plant, was cleverly voiced by Beth Wilkinson, a 'gender switch' that worked well and added an extra layer - (a surprise considering that Mazenod is a Boys' College). The Audrey II puppets were well-constructed and well operated - with the independent movement on one of the Audreys an unexpected element.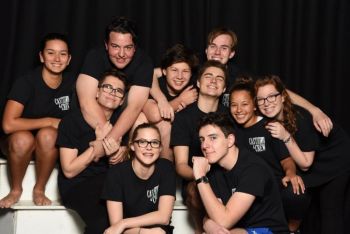 The supporting cast were also strong, with Sage Lockyer (Chiffon), Rachel Dupont (Ronnette) and Jasmine Cash (Chiffon), working well with the male ensemble - Zac Cave, Will Conti and Henry Marriott. Further support was provided by energetic 'extras' from Year Seven and Eight.
There were some really lovely surprises in this production, especially in the final scenes, that I am loathe to spoil. Those who feel they know the show, will be in for a treat - while the integrity of the script remains intact. A lovely local touch.
Little Shop of Horrors is a well presented school production, that was friendly and fun - featuring a great looking show with some admirable performances. Congratulations to all involved.
Kimberley Shaw