Adelaide Festival Centre's Adelaide Cabaret Festival invites nominations from talented students currently in Year 10 or 11 in regional South Australia for the 2017 Nathaniel O'Brien Class of Cabaret Scholarship.
The Adelaide Cabaret Festival's Class of Cabaret program gives talented young vocalists the unique opportunity to shine. Each year the best and brightest performing arts students from South Australian high schools come together after months of cabaret masterclasses to share songs and personal stories in performances of raw and awe inspiring talent.
Named after Nathaniel O'Brien, a 2013 Class of Cabaret and 2014 Class of Cabaret Grads participant who died tragically in 2015, the Nathaniel O'Brien Class of Cabaret Scholarship honours Nathaniel while providing development opportunities for young singers in regional South Australia.
Each year the scholarship follows Adelaide Cabaret Festival and Country Arts SA's Regional Roadshow to different regional centres in South Australia. This year's winners will be selected from the Port Pirie and Port Lincoln regions.
Two lucky recipients will have the opportunity to perform a song at the Roadshow in their respective home town in May and will receive express entry into the 2018 Adelaide Cabaret Festival Class of Cabaret program where they will participate in a group performance at the Festival. Each scholarship is valued at over $5,000 including travel and accommodation assistance to attend rehearsals in Adelaide throughout Term 1 and 2 in 2018, as well as private vocal tuition from one of Adelaide's leading vocal teachers, Charmaine Jones. In addition, Adelaide Festival Centre's CentrED program will provide a DECD teacher to guide each student through assessments to achieve SACE Creative Arts Course Stage 1 or Stage 2 accreditation by the conclusion of the program.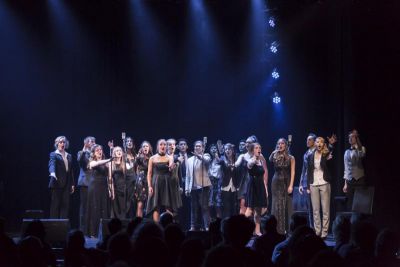 Last year's Nathaniel O'Brien Class of Cabaret Scholarship winners, Reilly Muller and Zara Nicholson, performed at the Roadshow last year and are looking forward to learning from cabaret greats as part of this year's Class of Cabaret.
"Winning the 2016 Nathaniel O'Brien Class of Cabaret Scholarship opened up a world of opportunities even before starting the program," says Reilly. "Performing amongst internationally successful Cabaret artists in front of a home town crowd at the Roadshow was truly inspiring and a bit surreal. I look forward to performing with other students and telling my own story at the Adelaide Cabaret Festival this year."
"At the Roadshow, I was really nervous to be performing with professional singers but the amazing support and mentorship I received made the night an extremely fun and rewarding experience," says Zara.
Douglas Gautier, Adelaide Festival Centre CEO & Artistic Director says, "We are delighted to offer the Nathaniel O'Brien Class of Cabaret Scholarship again in 2017. We look forward to discovering and nurturing more talented, young performers from rural South Australia though the Class of Cabaret program, and creating more opportunities for these performers in the arts."
Applications for the 2017 Nathaniel O'Brien Class of Cabaret Scholarship close 5pm Thursday 13 April 2017. For further information on the Nathaniel O'Brien Class of Cabaret Scholarship and Adelaide Cabaret Festival including the Roadshow and Class of Cabaret is available at adelaidecabaretfestival.com.au
Images: Class of Cabaret 2016. Photographer: Claudio Raschella.