By Sir James Barrie, lyrics by Carolyn Lee, music by Morris (Moose) Charlap, additional lyrics by Betty Comden and Adolf Green, additional music by Jule Styne. St Hilda's Anglican School For Girls. Directed by Sharon Kiely. Musical Direction by Tim Chapman. Joy Shepherd Performing Arts Centre, Mosman Park, WA. June 30 - July 2, 2019
St Hilda's Peter Pan is a fun fantasy, with a fresh feminist take and a decidedly modern vibe, played with joy and energy by the students of St Hilda's Anglican School For Girls. Opening Night saw a very receptive audience almost filling the beautiful and capacious Joy Shepherd Performing Arts Centre, one of Australia's best in-school venues.
While remaining loyal to the text of the 1954 musical, there are decided twists in this production that make it unique and interesting. Sally Phipps' design blends Australiana (Neverland is clearly an Australian Island) with Edwardian steampunk. Michael's teddy bear is a koala, and the silent animals (always in the script, but not usually Australian) are now an emu (Caitlin Azis), kangaroo (Erica Ho) and koala (Olivia Rock) in addition to the ticking crocodile (Felicity Palmer). Joe Lui's complex and clever lighting design helps the two storey set structure transform from nursery to Neverland to pirate ship, as well as creating the temperamental Tinkerbell.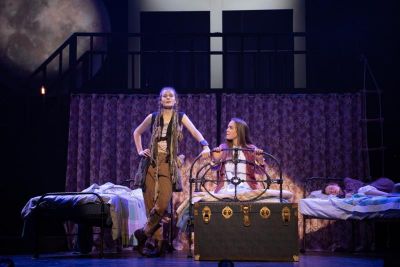 Sienna Eddy, in the title role, is an excellent Peter Pan, with plenty of personality, great voice and a ton of verve. She was well-matched with Angelica Zafris a strong and commanding Hook, and Ella Hagon, who was a loveable Wendy with strength and depth.
The pirates were a fearless(ish), ferocious(ish) band of female pirates. Hook is a lady on a mission and has a great girl gang behind her, with the endearing Smee (Charlotte Harkins) a great second in command.
The Wild Warriors, led by Tiger Lily are also a great group of girls, who make a formidable enemy. Wonderful work from Allegra Concanen (Tiger Lily) and her cohort.
The Lost Boys might all be boys (girls being too clever to fall out of prams and get lost), but they were well played by the lovely ladies from St Hilda's.
In the Darling House we saw some solid performances from John and Michael (Quin Stone and Sasha Browne), great animal acting from Sophie Love (Nana), good conviction from Olivia Strickland as Mrs Darling, working nicely with Bella Breden as Mr Darling. Lillian Kelly was sweet as maid Eliza, who also travels to Neverland. Sophie Gray (older Wendy) and Aimee Irving (Jane) made the most of their final moment appearances.

A cast of over 50 actors and an on-the-ball student crew make it impossible to mention everyone, but all were working hard and were energised and focused.
A strong orchestra, comprised mostly of student players, under the direction of Tim Chapman, showed that St Hilda's talent is not limited to its drama department.
A fun romp for audiences of all ages, Peter Pan featured girls running wild in the best of all possible ways. A cute and contemporary take on a much loved classic.
Kimberley Shaw