Book: Neil Simon. Lyrics: Dorothy Field. Music: Cy Coleman. Ringwood Secondary College (Vic). Director: Benjamin Moody. Producer: Michael Phillips. Musical Director: Victoria Wyatt. August 9 - 18, 2012.
You've got to love a show that inspires teenage boys to dance. And dancing is certainly a feature of Ringwood Secondary College's Sweet Charity, from formal suits, hats and canes, to hippie groove-moves, and marching band. Not to take anything away from the girls, who sizzled in the dance hall scenes.
Wonderful characterisation and impressive solo singing by all today's confident leads (each lead has a double) were a definite highlight. Winning over a mainly primary-school audience is a big feather in their collective cap.
With the preview performance now behind them, the cast will no doubt settle even further into their roles, applying greater gravitas to their dialogue.
After interval The Rhythm of Life, the biggest and brightest chorus number, did not disappoint with dazzlingly groovy-baby costumes, inspired dance choreography and infectious energy. Other highlights included I Love to Cry at Weddings, and Big Spender.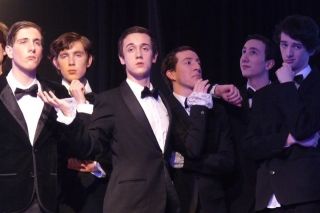 Technology is a feature of this year, within a minimalist set design. Three flat tv-screens positioned along the raised platform, together with two giant projection screens on the wings are adeptly used to relay information, illustrate action and simulate set. In a further innovation for the school, two portable staging "trucks" are pivoted into various positions by a busy stage-crew, altering performance parameters.
Lighting effects, colour washes and projected images were effective, particularly the golden wash that silhouetted the band.
Congratulations will undoubtedly be expressed to cast, crew and production team, through the resounding ovation of the local community beyond the school grounds.
Lucy Graham
Photographer: John Nichol