New Music by Jeanine Tesori. Book by Richard Morris and Dick Scanlan (+lyrics). Iona Presentation College. Directed by Joshua Brant. The Regal Theatre, Subiaco, WA. Mar 23-25, 2018
Ten years ago Iona Presentation College presented the WA Premiere of Thoroughly Modern Millie in their school performing arts centre. Playing Jimmy Smith was a young actor called Joshua Brant. Iona has just completed a new season of 'Millie", this time at The Regal Theatre, and that young actor, now a teacher at Iona, is now in the director's chair.
This is a stunning show, with amazing aesthetics, outstanding production values and top-class student performances.
Two young ladies alternated in the title role - Breanna Abreau and Tabitha Kerlin. I saw Brianna, who created a gutsy Millie with a beautiful crisp, clear voice, making a fabulous leading lady. She was very nicely matched with Samuel Maloney as Jimmy Smith, a talented young man, currently studying a Diploma course at WAAPA.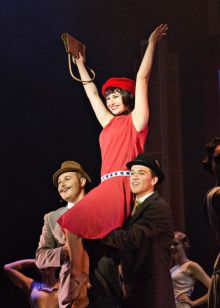 Georgia Wilson makes a delightful and loveable Miss Dorothy Brown and her duet with Jason Nettle, a strong Trevor Graydon, was a highlight.
Eliza Chaney, the leggiest Mrs Meers I have seen, played her dual personalities with finesse, supported by little sister Minerva Chaney - a wonderfully efficient Bun Hoo and the beautifully lovestruck Marcelle Brosnan as Ching Ho. Brooke Andrews was excellent as the officious Mrs Flannery.
Jade Spirito stole scenes as Muzzy Van Hossmere, with lots of pizazz and a gorgeous warm-toned voice.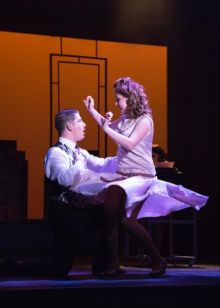 The girls of the Priscilla Hotel were, without exception, strong - well done to Mikaela Giancaspro, Anna Harris, Charleigh Tubbs, Apryl Richards, Georgia Hunt, Lara Pignatiello and Jessica Cullity. Olivia Bradbury made the most of her cameo as Dorothy Parker. A strong ensemble of Iona ladies and borrowed boys, completed the cast, with precision and focus.
Choreography, by Coby Brant, was amazing, including superb tapping and one of the nicest kick-lines I have seen.
Aaron Wyatt led a 32 piece orchestra that sounded flawless, a mixture of students and adults in the Iona community.
Costuming was stunning, under the leadership of Michelle Ward, with amazing use of colour and glamour. Wigs, hair and makeup are to be commended - creating a great sense of time and more than a little show-biz. The sets, created by Nathan Weyers of NJW designs, looked fabulous and transitions were sublime.
A fabulous production in which any company would take pride. A pleasure to watch.
Kimberley Shaw