The iconic story of Ned Kelly is brought to life in new Australian musical. NED makes its Melbourne debut after its premiere season at the Ulumbarra Theatre in Bendigo.
The original cast reunites for a one night only concert at The National Theatre in St Kilda on Jul 17, 2017.
NED explores the highs and lows of Ned Kelly's journey from local hero to felon to legend. Audiences will see themselves in the struggle of a poor family trying to make it through in a system that was stacked against them.
Adam Lyon (King Kong) has written a score that captures the sounds of the bush, while the libretto has all the raucous humour, warmth and tragedy audiences expect from this iconic story.
This Concert/Oratorio presentation features a cast and orchestra, with a combined power of 50 performers.
Directed by Gary Young (Georgy Girl, Mamma Mia!) and musically directed by Kellie Dickerson (Wicked, Doctor Zhivago), NED brings together a cast including Nelson Gardner (Merrily We Roll Along) stars as Ned and is joined by Penny Larkin (Mamma Mia!), Hannah Fredericksen (Dreamlover), Connor Crawford (Molly) and Alana Tranter (Georgy Girl, Hello Dolly).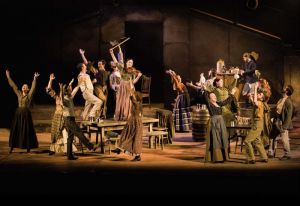 'The excellent cast is first rate...' Catherine Lambert - Herald Sun
'Director Gary Young should be applauded for a well-oiled production, which is confidently and slickly staged...' Rebecca Harkins-Cross - The Age
'Quite simply, this is the best completely original, entirely Australian musical ever.' David Spicer - Stage Whispers
Catch NED at the National Theatre Melbourne for its only Melbourne performance.
Bookings: nationaltheatre.org.au/ned – 03 9525 4611