Beth Keehn reports.
Ahead of the opening night for this joint production by Queensland Theatre and the Melbourne Theatre Company, Stage Whispers went backstage at QPAC's Playhouse to meet Storm Boy's Director, Sam Strong, and Puppet Designer and Associate Director, David Morton to learn how this production will immerse the audience in the classic story's setting in the coastal wilds of South Australia's Coorong beaches.
As well as a sneak peek at the stage set (designed by Anna Cordingley), lighting (by Matt Scott) and learning of the technical treats in store, this behind-the-scenes viewing allowed us to see some elements that will surprise and delight Storm Boy's audiences. The pivotal character, Mr Percival the pelican, his mates, Mr Ponder and Mr Proud (and their 'understudies') are brought to life through the magic of intricate puppetry designed by Brisbane-based Dead Puppet Society.
It's a steampunk-meets-kit-airplane style used by Dead Puppets in The Wider Earth, which was performed in London at the National History Museum and garnered the group a 2019 Olivier Award nomination for Best Entertainment and Family show. David Morton demonstrated the delicate laser-cut components, linked with sturdy flywheels, pulleys and armatures that help Mr Percival walk, flap his wings, open his beak and fly majestically, aided of course by a trio of talented puppeteer performers.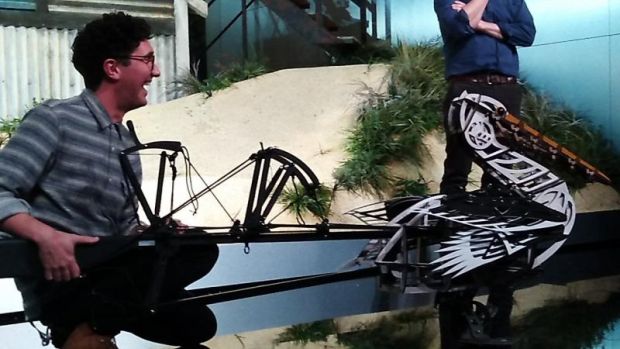 Key to imparting the pelicans' soul on stage is the relationship with central character Mike – the 'Storm Boy'. Director Sam Strong jested that he wasn't daunted by working with 'children and animals' in this production and praised young Conor Lowe for his ability to interact with all onstage characters to bring the beloved Australian tale of love and loss to life. Sam Strong has also chosen a great adult cast – audiences can look forward to seeing performances by John Batchelor as Hideaway Tom and Tony Briggs as Fingerbone Bill.
Storm Boy by Tom Holloway (adapted from the novel by Colin Thiele) is at the Playhouse at Queensland Performing Arts Centre (QPAC) from 31 July to 17 August 2019.