StageArt has announced the cast for the Victorian professional premiere of the Tony Award-winning Broadway musical Falsettos, which will play at Prahran's Chapel off Chapelfrom 1 February, 2018.
Falsettos revolves around the life of a charming, intelligent, neurotic gay man named Marvin, his wife, lover, about-to-be-Bar-Mitzvahed son, their psychiatrist and the lesbians next door. When tragedy strikes and Marvin's lover is diagnosed with AIDS during the 1980's pandemic, all participants must put their differences aside and unite. It's an poignant, yet hilarious look at the infinite possibilities that make up a modern family... and a beautiful reminder that love can tell a million stories.
Falsettos is directed by Tyran Parke (Big Fish, Ordinary Days, The Coronation of Poppea).
"I'm thrilled to be directing Falsettos, one of my all-time favourite shows, for StageArt. The show has always been engaging and wonderfully entertaining but in current times, the idea of marriage and public recognition of different kinds of families brings an additional weight to the show, never felt previously," says Tyran.
David Butler is also on board as Musical Director. David's extensive performance and coaching experience spans musical theatre, opera, television and contemporary voice.
The cast features Don Winsor (My Fair Lady, Titanic, Mamma Mia!) as Marvin, the neurotic New Yorker, who is fighting to keep his family together in an unconventional way. Marvin's ex-wife Trina will be played by Sarah Shahinian (Les Misérables, Oklahoma! - US National tours) who struggles to accept her ex-husband's relationship with a man, Whizzer, played by Sam Ward (Jesus Christ Superstar, Les Misérables).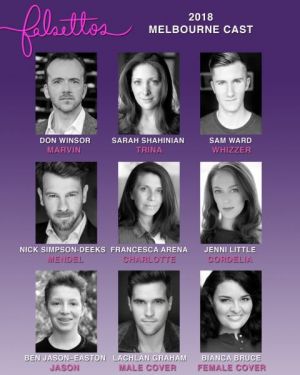 Despondent over the failure of her marriage, Trina visits psychiatrist Mendel, played by Nick Simpson-Deeks (four-time Green Room Award winner, The Play That Goes Wrong, Company), who is instantly smitten with her.
Francesca Arena(In The Heights, Cats) plays Dr Charlotte who begins to worry about the mysterious illness spreading among young gay men in the city. Her partner Cordelia, played by Jenni Little (High Fidelity, Kinky Boots), takes on the task of catering for the Bar Mitzvah of Marvin and Trina's 13-year-old Jason, to be played by Ben Jason-Easton (Les Misérables, Jesus Christ Superstar).
Rounding out the cast is Lachie Graham as Male Cover and Bianca Bruce as Female Cover.
Falsettos was written by William Finn and James Lapine, with Finn also composing the score and lyrics for the show's Broadway debut in 1992. The show was nominated for seven Tony Awards in 1992, winning Best Original Score and Best Book of a Musical. It was then revived in 2016, earning five 2017 Tony Awards nominations, including Best Revival of a Musical.
StageArt presents Falsettos
From February 1 -12, 2018
Chapel off Chapel - 12 Little Chapel Street, Prahran
Tickets available via http://bit.ly/FalsettosTIX
More reading