The Bondi Theatre Company cast of the Margaret Fulton: Queen of the Dessert have had a close encounter with the Australian cooking legend, who is the subject of their production from October 12 – 27.
The musical is based on the biography of Margaret Fulton I sang for my supper, tracking her life from a school girl to a national cooking superstar who sold 1.5 million books.
Cast and creatives were thrilled recently to meet the almost 94-year-old in the Southern Highlands, to learn a little about her life.
At the morning tea, Margaret autographed a treasured cook book owned by the mother of Northbridge actor Manon Gunderson-Briggs, who is playing her in the musical.
"It is really special that I would get to portray such an amazing person and also be lucky enough to meet you," Manon said to Margaret.
Margaret was pleased to see some cooking stains on the book.
The cast and crew were a little nervous when Margaret was brought to meet them.
"It reminded me of when I met the real Queen in 1992," said Bondi Theatre Company Producer David Spicer.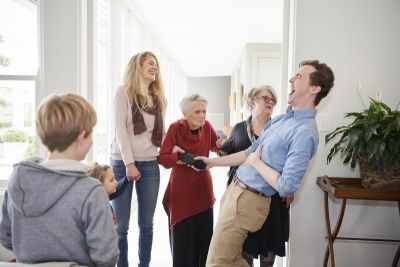 "Margaret immediately put us at ease when she made a cheeky comment about actor Brett O'Neill, who is playing two of her former husbands."
Margaret quipped, "He'll do."
During the photo shoot actor Clare McCallum told Margaret that she is portraying her mother Isabella. Margaret responded by kissing her hand.
Margaret Fulton – a long term resident of Balmain - recently moved into a nursing home in the Southern Highlands.
During the meeting she was in good form. She lectured the young cast not to smoke and even sang to them.
Pearls of wisdom which flowed from her during the meeting included "If you meet a cad give him a kick," and "if there is food there I'll eat it".
The musical by Doug MacLeod (Comedy writer) and Yuri Worontschak (AFI Award winning composer) is having its Sydney premiere at the Bondi Pavilion theatre during October 2018.
It was critically acclaimed at its premiere in Melbourne – described as "terrific" by The Australian, "hilarious" by the Herald-Sun and "infectious fun" by The Age.
Tickets for the musical and ten other cabaret, children's theatre and Shakespeare productions during the Bondi Theatre Company season from October 10 – 27 can be purchased at www.bonditheatrecompany.com.au
TEN PERFORMANCES ONLY DURING OCTOBER: Fri 12th and Sat 13th @ 7pm, Wed 17th @11am (followed by guest VIP Q & A), Fri 19th and Sat 20th @ 7pm, Sun 21st @ 2pm, Wed 24th @ 11am (Babies welcome session), Thur 25th and Fri 26th @ 7pm, and Sat 27th at 8.30pm.