Original Tap Dog member, Darren Disney, believes in "passing it on."
Owner and dance instructor at D3 Dance Studio at Wyong, Darren teaches up to 200 dance students each week but makes special time available for young up-and-comers who have that something extra.
For the past five months, Darren has been teaching tap to Central Coast school teacher Brett Perkins in preparation for the young man's role in Stepping Out, an English comedy/musical about a group of people from different walks of life learning to tap.
"Brett has been an amazing student of tap," said Disney, adding the Nida trained actor is something of a perfectionist.
"As soon as Brett was cast in this production, he contacted me about learning to tap. While the show is about eight people attending a weekly tap dance class, I understand the finale is a tap dance spectacular where everybody shines," said Darren, who toured the world in the original Tap Dogs troupe 25 years ago.
"It was a fantastic experience and I loved it" he said, adding he keeps in touch with his fellow tappers and the originator of the Dogs, Dein Perry. "Four years of my life in Tap Dogs and we travelled everywhere.
"Often theatre managers would ask us to extend our season by a few more days, but Dein would have to say 'sorry – we're booked to start in Paris tomorrow'," Disney laughed.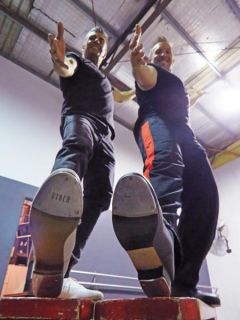 Meanwhile, Perkins says he's spending nearly every spare moment rehearsing his tap technique.
"I've got my lines and moves down pat but I'm determined to make sure the Stepping Out finale gives everyone in the audience that "feel-good" moment that's so important in live theatre," said Perkins, adding that he's so pleased he took the part of widower Geoffrey.
"The other nine people in the cast are just wonderful, the script is so clever and funny and it's a pleasure working with director Shea Wicks who keeps reminding us which lines will get the laughs. Shea did this show 25 years ago and still remembers the script! We trust her!"
Where and When:
Laycock Street Theatre - August 14, 15, 16 @ 8pm. Fri Aug 16 matinee @ 2pm
https://www.centralcoast.nsw.gov.au/theatres
The Art House, Wyong - August 23 and 24 @ 8pm. Saturday matinee @ 2pm.
http://www.thearthousewyong.com.au
Ticket prices: Groups 10+ $30ea, Concession $32ea, Adults $35ea.