OVO is Portuguese for Egg. It's the theme for the latest Cirque Du Soleil blockbuster to tour Australia. One of the standout features is the costumes. The most expensive cost ten thousand dollars. French Canadian Designer Liz Vandal was the Queen Bee of seamstresses charged with making cockroaches, crickets, ants, fleas and spiders spring to life.
Stage Whispers: Do you think you are the luckiest costume designer in the world...in terms of budget and allowing your imagination to run wild?
Liz Vandal: It was a blessing to have the opportunity to work in collaboration with Cirque du Soleil. It was like giving a good swimmer the best pool in the world.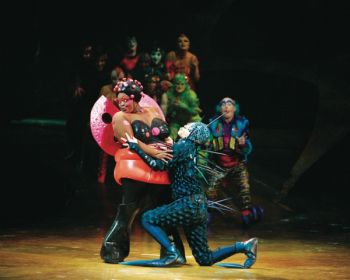 Working with great tailors and seamstresses, having access to worldwide fabrics and working with people that had the flame of passion in the depth of their eyes… beautiful.
SW: How closely did you research the world of insects before you started designing the costumes?
LV: Since I was a child, I have always loved insects. Do all children? I don't know. But my fascination went from studying them closely to bringing some into the house as pets.
I would put big rocks everywhere in my backyard and a couple of days later I would turn them over to watch what type of insects would crawl under there. My dad would always get upset at me because he could not mow the lawn with all of those rocks.
I could not have cats as my sister was allergic, so I would carry the furry caterpillars into my bedroom like little tiny kittens…my mom was horrified!
So all of my life I studied bugs; buying books, watching documentaries. So when Cirque du Soleil called to interview me for a show about the insect world, I thought there was a hidden camera! So perfect for me. The magic of life.
SW: So would someone with an expertise in insects approve?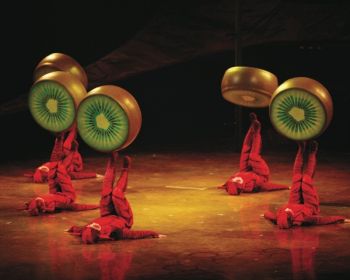 LV: Georges Brossard, our famous insectarium of Montreal founder, saw the show. He said what he loved the most were the costumes.
I designed the costumes with an evocation approach; not an imitation one… not the same angle at all. I had to reflect on what the connotation of a spider was in my mind. That is not a bug with eight legs, but a long and lean figure, dangerously sexy and elegant.
Or what is the feeling we have toward cockroaches. The feeling is a repulsive one. They bring out a feeling of dirt, disgust, fear, awkwardness. But in fact they are beautiful insects, like little armors with a lot of sections. I also designed the costumes with the meaning of the word 'insect' in mind. Insect comes from the Latin word 'insecta' that means 'in section'. So all the costumes are sectioned with many parts, like our bodies with our muscles. I guess specialists would approve.
SW: Even so there is a style to these insects. What fashion trends are you influenced by?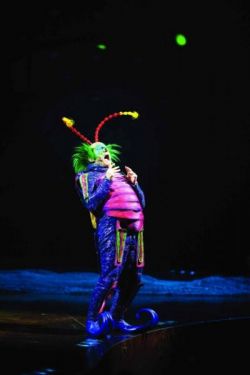 LV:I love Issey Miyake's pleating work; he is a genius. Pierre Cardin for his graphic style, then Thierry Mugler for his super heroic clothes. But the best inspiration is our human body. The muscular structure is actually the basis of inspiration for armors that look like insect shells.
SW: Insects are good at flying, but what are you doing to make the costumes easy for humans to fly in?
LV:Each acrobat has only one 'personality' in the show. We just added on a 'parade' element (or two) for when they do staging (on the ground). Some have heavier scarab sleeves that they take off for the flying act, the cricket's legs are detachable.
SW: Was the Cricket costume a challenge?
LV: The first one took about 80 hours to build (cut pieces and sew them) and now it takes about 12 hours to produce. The way it is built is like the muscles on a body, pleated fabrics that are sewn between stretchy (Lycra) parts, creating the 'armor' effect but with softness of the fabric.
SW: What other fabrics did you work with?
LV: I created a permanently pleated fabric that is coated with different textures and colours. At first we tried natural fibres, but they don't last. Polyester is a strong and forgiving material that permits many treatments and cleanings. It lasts a lot longer than natural fibre.
SW: Could you give us a brief explanation of the design process?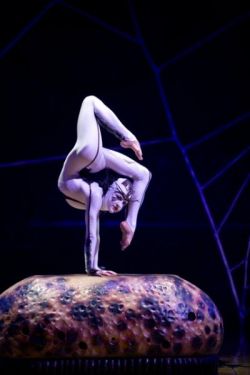 LV: Most of the time the first 'vision'/ first idea is right on. I think I have a good antenna, maybe I am myself an insect. Creativity is so abstract, I don't question it. I am just so full of gratitude for this abundance.
SW: What is your favorite costume in the collection and why?
LV: I just saw the show in Portland, Oregon. I hadn't seen it in two years. I saw it with children's eyes! I love them all so much. In fact, it felt as if I was receiving back all the love I had given to my work every day while working on OVO.
Tour Dates.
Brisbane- From July 14, 2012, Northshore Hamilton.
Sydney- From September 13, 2012, Showring at The Entertainment Quarter, Moore Park.
Adelaide- From December 6, 2012, Tambawodli (Park 24), Sir Donald Bradman Drive.
Melbourne- From January 17, 2013, Docklands Melbourne.
Perth - From April 14, 2013, Langley Park.
http://www.cirquedusoleil.com/en/shows/ovo/default.aspx
Originally published in the July / August 2012 edition of Stage Whispers.
Images: (top 3) Benoit Fontaine © 2009 Cirque du Soleil Inc. (lower 2) OSA Images. Costumes: Liz Vandal © 2009 Cirque du Soleil.
More OVO Coverage
OVO Ovation - David Spicer interviews Assistant Artistic Director Jennifer Bender