Cirque du Soleil's latest extravaganza has opened in Sydney – the second stop on its national tour.
David Spicer describes the production as elegant and stylish.
His favourite characters were the flying Butterflies.A pair combine hand-to-hand, ballet, contortionand an aerial flying act on a rope that allows them to swoop and land, leap and fly in perfect unison.
Keeping the insects in harmony is the Assistant Artistic Director Jennifer Bender. David netted this interview.
What is the buzz about this show?
Anywhere we go people are excited. No one does spectacles like this on so many levels. We travel the world to find the best performers, best acrobats, and best contortionists. Ovo has got a Brazilian feel to it. The music has a kind of pulse, rhythm and joy, bright and colourful. The buzz is to see something exciting and energetic, more family friendly than other cirque shows.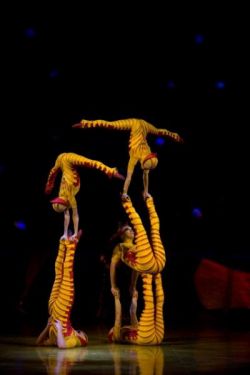 How are some Cirque shows more adult than others?
Zumanity (on stage in Las Vegas) is geared to an adult audience. It's darker and sexier. Ovo is really energetic and joyful. If you are going to be with a family you could not pick better.
How do you keep them humming along – on a long tour?
On a day-to-day basis I make sure we are presenting the show as conceived by the original director four years ago. We try also to make the storytelling deeper and more interesting. We are always training the acrobats; the artists are growing and with the trampoline act we put in something more difficult a few years ago.
With so many different nationalities in the cast, is it a bit like the Tower of Babel with everyone speaking a different language?
English is the official language but it is fun trying to communicate in a different language.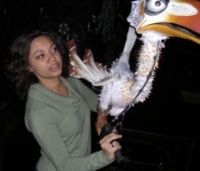 What is a good example?
I was talking to the cast about the story which is a day in the life of a community of insects. The fly character enters with a giant egg and falls in love with the Lady Bug. I asked the cast to revisit these motivations. I might have a suggestion based on a cultural reference such as how many have seen The Little Mermaid. Sometimes only 3 out of 50 know what I'm talking about. Then someone from Russia will say, 'Oh I get it.' So finding something that makes sense to 16 nationalities is like a game.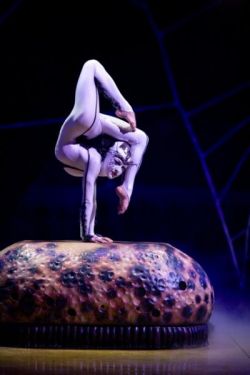 Did you like bugs as a kid?
Not particularly. I wasn't that passionate about picking up rocks. Ovo is not just for people who love insects, it is for people who love life. Through the insects we tell the story of a day in the life of a community. There are some big personalities such as the Ladybug who falls in love.
Is the Ladybug your favourite?
Yes…any woman can identify with her. She's looking for love when a foreigner enters her world. It is love at first sight when she meets a handsome stranger.
What is the most jaw dropping moment in the production?
Our wall trampoline act. 21 artists jump off a huge 8 metre wall fall back. The crickets combine rock climbing, jumping and diving.
This is the 25thCirque show…why do you think it keeps growing and how do they compare to Broadway productions?
The scope of Cirque is bigger than typical Broadway productions. The size, different types of acts and physical abilities are incredible. No other entertainment operates at this level. 21 shows are running all over the world. There is no limit as long as artists have new ideas.
Jennifer Bender's Broadway credits include The Lion King (Resident Director), Avenue Q, The Wedding Singer, and (Assistant Director). Jen is the co-founder of Broadway in South Africa, a non-profit organization that aims to develop a cross-cultural exchange between youth in need and artists who seek to use their change for good.
Photography: OSA Images.
Earlier OVO coverage
OVO's Fabulous Costumes - interview with designer Liz Vandal
Cirque Du Soleil returns to Australia
CIRQUE DU SOLEIL - OVO - 2012/2013 AUSTRALIAN TOUR
Sydney - From September 13 2012,Showring at The Entertainment Quarter,Moore Park
Adelaide - From December 6 2012
Melbourne - From January 17 2013, Melbourne Docklands
Perth - From April 14 2013, Langley Park