City slicker Coral Drouyn took a visit to a rural town and was impressed by the pulse of community theatre.
If you live in a major city, there's a tendency to drive through any small town and say "how do people stop themselves from dying of boredom?" The answer is simple, though often unexpected. Whether you call it amateur dramatics or little theatre, or its current name "Community Theatre" is irrelevant.
In country towns, and in the suburbs, theatre is thriving. In an era where many of us don't know our neighbours names, and "friends" are people we have only met in cyberspace, the sense of family comes from belonging to a community theatre group.
Warragul is a small but prosperous country town in rural Victoria. It's the home of the WTC – The Warragul Theatre Company - with three or four more community companies in the area, one of them pro-am.
Given the nature of the area, there are people who have had professional careers in theatre and film and television who have moved for a lifestyle change and now find themselves drawn to others with the same interests in creativity.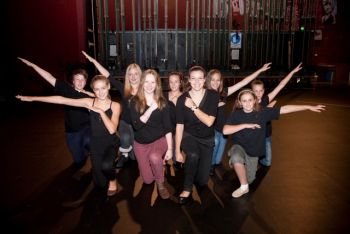 They bring years of experience to the production side. Others may never have set foot in a theatre and have been dragged to a meeting by a friend. They're regional managers, IT specialists, shop workers and retirees. They've shifted scenery, sung in the chorus and perhaps ended up directing.
Whatever you did in the past, whatever you do now, it doesn't matter. All that's needed is a commitment and a love of what you're doing. There's very little crime or vandalism in this town. If young people get bored they join WTC or another company. They find different ways of expressing themselves and burning off energy….and they do it on stages.
In May I stood on the side of the stage at The West Gippsland Arts Centre, watching the WTC warm up before their final preview of Carmen the Musical. Last minute touches were being put to the set, the chorus was doing vocal exercises, someone was sewing a hem, two men were practising their stunning sword fight, and the orchestra was tuning up.
"Put some energy into it – more volume," said Musical Director David Williams (balancing on crutches from an accident), "or it will be a complete and utter disaster."
David is a professional musician who's played in everything from swing bands to the State Orchestra of Victoria. The chorus sings with more gusto – but he keeps pushing them.
I ask him why Warragul?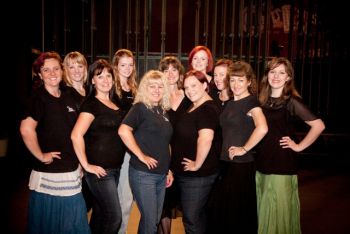 "It's a great little town, and I wanted to get out of the city. The opportunity came to teach music in education, and then I discovered this community theatre. The rest is history."
Alan White and his wife Chris came to town three years ago. Alan had done Carmen The Musical at another community theatre and suggested it to the committee of WTC, of which Steve Howe is the current president. It's a democratic company and everyone gets to be heard. Alan and Chris are doing front of house on this show, but he's previously built the sets.
"Everyone wants to be on stage," he tells me, "but it's harder to get volunteers to do the carpentry and the heavy work. That's a pity, because you can have just as much fun without worrying about stage fright."
Kate Taylor is a diva on stage – and great as Carmen – but down to earth and just part of the company after the performance. She and dancer husband, Kirk Millan, have had professional careers here and in Britain, but Warragul is where she wants to be.
"We choreographed Guys and Dolls last year and between us we set the swordfight for this. So much fun – and things we might never have got to do elsewhere."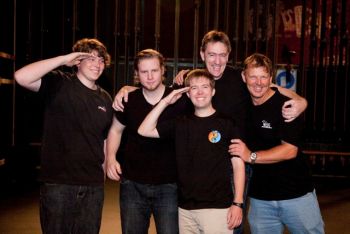 That swordfight alone was worth the price of admission. Director Michelle Carrigy has been hooked on musicals since she was a kid. She actually did attachments in her teens on several television shows, but theatre was always the temptation.
She drives a round trip of an hour and a half and has got her teenage kids involved as well. She doesn't care how much it takes out of her. It's a labour of love. Teenage daughter Melanie follows her around and takes notes and nudges Mum's memory on what needs to be done. "She calls herself the Assistant Director," Michelle tells me with a smile. "That's cos I AM," Melanie insists.
The backstage walls of the theatre are covered with messages from the casts of their previous productions. They're more like love letters; homage to the shows; than graffiti. This is a creative project from a diverse spectrum of people who come together to create a family for the run of the show.
And when the curtain goes up, that family draws together and gives it their all. You can feel the pure joy on stage. That's what Community Theatre is all about. When was the last time you visited yours and shared that sense of belonging to something special?
Originally published in the July / August 2012 edition of Stage Whispers