Sony Music Entertainment and The Gordon Frost Organisation have announced the release of the Australian cast recording of the new production of Annie which was recorded on Opening Night, January 5, 2012 at the Lyric Theatre, Sydney.
Many audience members who have purchased a program at the production in Sydney and seen the advertisement are probably already looking forward to it.
This is the third production of Annie to be staged in Australia, the first in 1978-9 and the second in 2000. ANNIE plays at the Lyric Theatre, The Star until March 25 before moving on to Brisbane, Melbourne and Perth.
The album features live recordings of the perennial Annie favourites performed by the stellar Australian cast that includes Anthony Warlow as Daddy Warbucks, Nancye Hayes as Miss Hannigan, Todd McKenney (Rooster), Chloë Dallimore (Lily St. Regis), Julie Goodwin (Grace Farrell) and radio broadcaster Alan Jones as Franklin D. Roosevelt. This recording features 10-year-old Ella Nicol in the role of Annie, one of three young actresses playing the role in the Sydney season.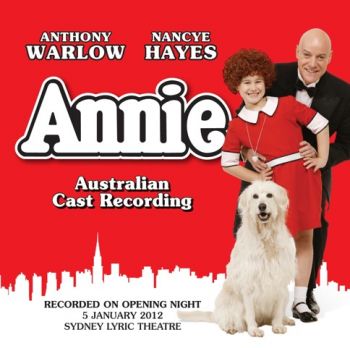 Producer John Frost said, "I'm extremely proud of this wonderful new production of ANNIE, and thrilled that Sony Music and I have been able to record this brilliant cast for posterity. I hope it starts a resurgence in live recordings of Australian casts of musicals, so audiences can not only see these productions in theatres but relive the theatrical excitement at home with the cast album."
Show Music fans will already have an LP of the original 1978 Australian cast of Annie, featuring Sally Anne Bourne, Hayes Gordon, Jill Perryman, Kevan Johnson, Nancye Hayes and Anne Grigg, released by Festival (L-36861). Wouldn't a CD release of that original cast be terrific too.
Images: Annie (Ella Nicol) and Daddy Warbucks (Anthony Warlow) Photographer: Jeff Busby, and Album cover.
Our earlier coverage
Dancing with Todd: How his Annie dancing partners rate him