Tickets for the final weeks in Sydney of the hit musical production Annie went on sale today (February 13, 2011).
Producer John Frost is thrilled with the production, saying, "Annie has always been a firm favourite of mine, and I'm so glad Sydney has taken this production to its heart. Over 100,000 tickets have been sold, and audiences of all ages are loving the show. The Brisbane and Melbourne seasons are selling very strongly as well. Australians are hungry for good quality entertainment and Annie delivers this in spades."
The production premiered with a Gala Opening Night at Sydney's Lyric Theatre on January 5, 2012, and will play its last performance in Sydney on Sunday March 25, before it moves on to Brisbane and Melbourne. The show sold 60,000 tickets prior for the Sydney season prior to opening.
The Brisbane season commences at the Lyric Theatre, QPAC, on April 7, 2012.
A Melbourne season commences at the Regent Theatre, with performances from May 24 (Opening Night May 27).
A Perth season will follow, according to the official website, though no dates have yet been announced.
Lucy Graham reported from the Melbourne launch.
When show business legend Nancye Hayes was approached to direct the upcoming production of Annie she wasn't prepared to accept. But a subsequent offer of the role of Miss Hannigan was impossible to resist.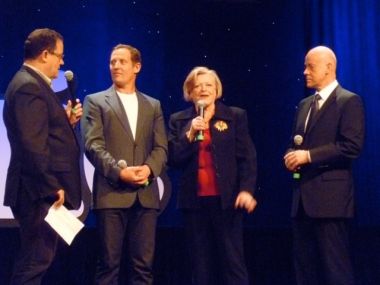 Speaking at Melbourne's Plaza Ballroom this afternoon (September 13, 2011), Nancye Hayes was joined by fellow stars Anthony Warlow who returns to the role of Daddy Warbucks, Todd McKenney (Rooster Hannigan), Chloe Dallimore (Lily St Regis), Julie Goodwin (Grace Farrell) and a group of singing orphans.
Opening in Sydney's Lyric Theatre this summer, followed by Brisbane and Melbourne, this is the third season with which Hayes has been connected, having played Lily St Regis is the original 1978 production, and then assistant director in 2000.
Never mind the old adage warning of the perils of working with children and animals, producer John Frost reckons after 12 years the time is right for Annie to return to the Australian stage.
"2012 marks 35 years since Annie opened on Broadway and the show continues to be one of the most popular musicals for audiences that now spans generations," says Frost. With its timeless and optimistic message, you can bet your bottom dollar Annie will be a hit again in 2012."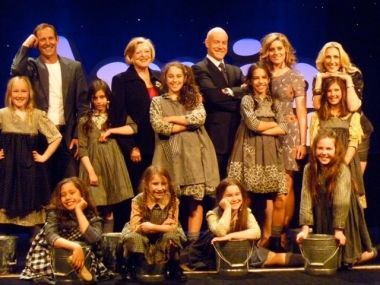 Jasper, a new furry star of the four-legged variety, is in training to make his stage debut, and will tour with the company to Sydney, Melbourne, Adelaide, Brisbane and Perth, with an understudy in each state. Should the show extend into Asia, a new dog will be auditioned.
Marley Aspinall (12), Siena Elchaar (11) and Ella Nicol (9) will share the title role of Annie, with three groups of seven orphans in each state, some of whom sang up a storm with It's a Hard Knock Life this afternoon.
Images - Top image - Photographer Jim Lee. Lower two images - Photographer: Lucy Graham.
Further Coverage
Casting of Children for Brisbane season
Dancing with Todd: How his Annie dancing partners rate him
Annie Childrens Cast Announced
Annie Australian Cast Recording
Check out our interview with the Sydney Annies. Link
To keep up with the latest news and reviews at Stage Whispers, click here to like us on Facebook, or follow us on Twitter.
Our earlier coverage
Returning to the role of New York 'zillionaire' Daddy Warbucks will be one Anthony Warlow, fresh from his success in the title role of the World Premiere of Doctor Zhivago.
Show business legend Nancye Hayes will play the tyrannical Miss Hannigan who runs the orphanage where Annie begins her journey. This is the third Australian production of Annie that Nancye has been involved with, having played Lily St Regis in the original production and been Assistant Choreographer for the second.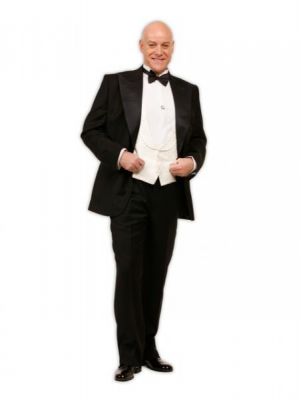 Joining Nancye as her scurrilous brother Rooster Hannigan is television and stage favourite Todd McKenney (The Boy From Oz, Dancing With the Stars).
Playing Rooster's "lady friend" Lily St Regis and Warbuck's secretary Grace Farrell will be two leading ladies of musical theatre, Chloe Dallimore (The Producers) and Julie Goodwin (West Side Story) respectively.
Making his musical theatre debut in the role of President Roosevelt (FDR) will be radio veteran Alan Jones.
The ensemble cast includes Lisa Bluthal, Tony Farrell, Anna Freeland, Todd Goddard, Emma Hawthorne, Luke Joslin, Jayde Kirchert, James Lee, Samantha Riley, Stephanie Silcock, Brianne Turk, Rod Waterworth, Jack Webster and Matt Young.
The Sydney Childrens cast also announced, including interviews with the Annies - link
Announcing his all-star cast, Producer John Frost said, "I'm often asked when Annie will return to the stage, and I'm thrilled that for this new production we have the A-list of Australian musical theatre talent – Anthony Warlow reprising one of his favourite roles, Nancye Hayes putting her mark on the role of the mean Miss Hannigan, and Todd McKenney, Chloe Dallimore and Julia Goodwin who are the cream of Australian talent. And I know Alan Jones will surprise everyone in his musical theatre debut. Our production team is top quality as well - director Karen Johnson-Mortimer, choreographer Kelly Akers and musical director Peter Casey. You can bet your bottom dollar Annie will be a hit again in 2012!"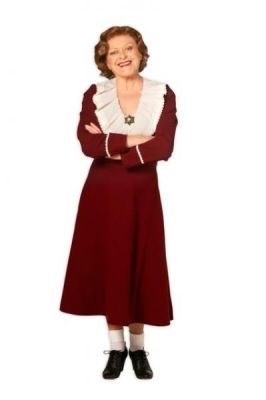 Based on the popular Harold Gray comic strip "Little Orphan Annie", the musical Annie burst into popularity in 1977 when it opened on Broadway. After running there for nearly six years, it has played in over 22 countries worldwide including the UK, Argentina, Japan, Germany, Sweden, Spain and Australia.
Annie first toured Australia from 1978 with a cast that included Jill Perryman, Hayes Gordon, Kevin Johnson, Nancye Hayes and Anne Grigg. Annie returned to the Australia stage in 2000 produced by John Frost starring Anthony Warlow, Amanda Muggleton, Jane Scali, Philip Gould and Angela Kelly. For this production, Annie's lyricist and original Broadway director Martin Charnin wrote a new song for Anthony Warlow to sing in the show, an unprecedented honour for Warlow.
Based on the "Little Orphan Annie" comic strip which debuted in 1924 and ran for over 80 years, Annie is set in Depression Era New York City at a time when the economy looked bleak, government seemed ineffective and the average citizen was desperate and frustrated. Sound familiar? With its hopeful message and unwavering belief in a better tomorrow, Annie became one of the biggest Broadway musical hits of the 1970s, running for almost six years and playing 2,377 performances. The musical won seven Tony Awards, including Best Musical, Best Book (Thomas Meehan) and Best Score (Charles Strouse, Martin Charnin), the New York Drama Critics Circle Award for Best Musical, seven Drama Desk Awards including Best Musical, and the Grammy for Best Cast Show Album.
To keep up with the latest news and reviews at Stage Whispers, click here to like us on Facebook, or follow us on Twitter.