Together with the songs and sound of the Bee Gees, John Travolta's unforgettable characterisation of Tony Manero ensured huge success for the 1977 movie Saturday Night Fever and had the whole world disco dancing. It has also been a huge hit for musical theatre since creator Robert Stigwood adapted it for the stage back in 1998. Adelaide's Matt Byrne Media will present the SA Premiere of the iconic musical this July. Lesley Reed reports.
Adelaide is in for a dizzy disco time with the sensational musical Saturday Night Fever hitting the boards in July for the first-ever SA production since its stage adaptation from the movie back in 1998.
Producer/director Matt Byrne of Matt Byrne Media said he had long dreamed of presenting Saturday Night Fever. "I used to go to places in Adelaide like the Old Lion, Jules, Sinatras and the Arkaba to dance to this music back in the late seventies," he said. "The Bee Gees music was sensational and Saturday Night Fever was the hottest movie with the hottest soundtrack in the world."
Byrne is proud of the fact that one of South Australia's own brilliant minds created Saturday Night Fever.
"Robert Stigwood, who hailed from Port Pirie, was the man behind it all. He was a legendary figure behind many musical hits and movies, including Grease The Movie," he said, "and his London-based company, RSO's musical partnership with the Bee Gees ruled the entertainment world."
Like all major musicals that stand the test of time there's a lot more to Saturday Night Fever than the signature music and Tony Manero's three-piece white suit.
"What people might have missed in the hype around the film was the powerful story that went with the music," Byrne said. "We meet a young Italian American called Tony Manero working a low-paid job at a paint store and battling with his family's low expectations of him. But come Saturday night he and his gang The Faces – Joey, Double J. and Bobby C. rule the local Odyssey Disco where Tony is king of the dance floor. Tony's ambitions revolve around a competition that he and dance partner Annette are rehearsing for, until he meets a new girl called Stephanie who is looking to move up socially to Manhattan. Tony seeks a relationship with the more mature Stephanie and his home life is rocked by the news that his brother Frank is leaving the priesthood. The only place Tony truly feels free is on the dance floor."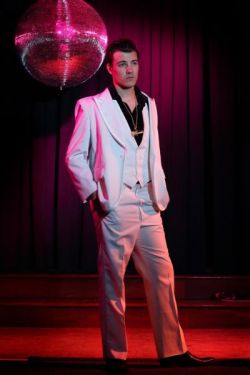 Matt Byrne will direct and design Saturday Night Fever, with musical direction by Paul Sinkinson and choreography by Sarah Williams.
Byrne is excited about his all-Adelaide casting. "We have some fantastic new talent in Sebastian Cooper as Tony and Amber Platten as Stephanie," he said. "It never ceases to amaze me how the right people appear when you need them. We want to do the memory and achievements of Robert Stigwood and the music of the Bee Gees proud."
The show also features Lauren Noble as Annette, Jonathan Dragt as Double J, Anthony Butler as Joey and Iman Saleh as Bobby C. Niki Martin plays Tony's mother Flo, Russell Ford is his father Frank Senior and Matthew Pugsley will play Tony's brother Frank Junior. Byrne will play the DJ, Monty.
The production will have its first ten days at the Arts Theatre. Then, like many of Matt Byrne's major shows, it moves north to the Shedley for the remainder of the season.
The exposure will throw its relatively unknown star Sebastian Cooper into the spotlight as Tony Manero. I asked Sebastian what that means to him, both in a personal sense and for his future.
"It's a really big deal," he said. "This opportunity really took me by surprise. I didn't plan on doing another show this year after Northern Light's The Pajama Game, but Matt gave me the opportunity more or less out of the blue.
"I guess Matt saw something he wanted in me and he saw me as Tony. I've been performing most of my life and I've had principal roles before but because I've lived in the country, they've always been to smaller audiences and smaller shows and there's obviously less competition as well.
"For me to come to the city, although I've been in a few shows here now where I've had roles I could sink my teeth into, this is a huge step. Matt's shows are famous for being big spectacles and having long seasons. A lot of people come to see them.
"I decided recently that I didn't want to ever resent a career in performance where I'd have to scrape dollars together to survive so I went to university, but when someone sees you and says 'I think you can do this', someone puts their faith in you because they really believe in you like Matt does, you think 'well maybe I could'. It means a lot because it feels like it's all sort of been leading up to this and I hope now other people will see me and say 'I can see him performing in our show'. For this I will forever be grateful to Matt and I cannot wait to work with him again."
Sebastian sees a lot of himself in Tony, but from his explanation there's no grandstanding here; simply a frank honesty.
"He's just the perennial under-achiever," he said of Manero. "I feel like sometimes I have chosen not to shoot for things even though I probably could do them. Some of that is circumstance and some is the inability to self-motivate, a bit like Tony.
"Three years ago I was Tony. I worked at a supermarket, I lived at home, I was into my twenties and had no prospects; no idea what I wanted to do, no inclinations of what I wanted to do.
"I didn't grow up in a very well-off family. My mum was a single parent for the early years of my life and I didn't go to the best schools or get to do the best extra-curricular lessons, which isn't that bad in the scheme of things and I'd never blame that on my parents as it was just situational. That's where I see Tony; I see him being held back by things he both can and can't control and whether or not he can push past that is a real test for him. I feel like I'm in a position now where I have, and part of that is building relationships with new mentors and people. That's what Tony's trying to do. He's trying to find people to help him do better for himself and to make him a better person and I was lucky enough to find that same thing. Of course my parents help me in any way they can and they will always be my biggest supporters, fortunately, which is very different to Tony's home life."
Sebastian has no intention of copying former stars in the role. He wants to make his performance unique and memorable in its own right.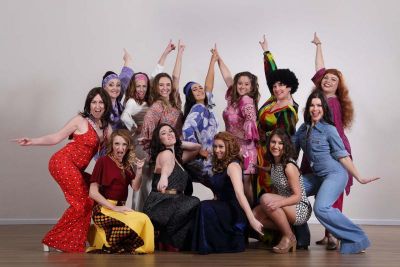 "I think I'm quite a raw performer and I try to use that in my performance and my acting," he said. "I don't try to mould myself to a character; I try to mould that character around me. Tony for me is just another version of myself and so I try to apply these situations to myself and use those emotions and how I would react to the things that are happening.
"A lot of people ask me about John Travolta and I've tried to steer myself as far away from him as I can because I know some will be walking into the theatre expecting John Travolta, but I want people to come to this show and see Tony Manero. I want people to see a version that they have never seen before and maybe by being that raw and open, people will feel that.
"Of course you could say the same about the entire show – a lot of people will come expecting a Bee Gees tribute show but it couldn't be anything further from that. It's an unbelievably rich story; it's funny and silly and thrilling and sad and beautiful. The depth of Tony's story blew me away; the soundtrack is truly just a bonus."
That soundtrack of course includes songs like 'Stayin' Alive', 'Night Fever', 'Jive Talkin', 'How Deep Is Your Love', 'More Than a Woman' and 'You Should Be Dancing'.
Saturday Night Fever will have everyone on their feet, so make sure you're in the disco groove in July and go along to enjoy one of the most memorable musicals of all time.
WHERE AND WHEN:
Arts Theatre from July 5 to 8 and 11 to 15 at 8 p.m. & July 8 and 15 at 2 p.m.
Elizabeth's Shedley Theatre from July 20-22 and 27 to 29 at 8 p.m. & July 22 & 29 at 2 p.m.
TICKETS:
$40 Adults and $35 for Concessions, with Group Discount prices of $38 /$33 for 10 or more. (Booking Agency Fees Apply).
$25 Cheap Nights Wednesday, July 5, Preview and Tuesday, July 11, at the Arts and Thursday, July 20 at the Shedley.
BOOKINGS:
www.mattbyrnemedia.com.au or call 8262 4906
BASS or dramatix.com.au (agency booking fees apply.)
More Community Theatre Reading